This is a placeholder text
Group text
V1,CERT,BIR

 Askepott av Røstadgården SCHH 1 Kkl 1 
Dam born: 13. March 2006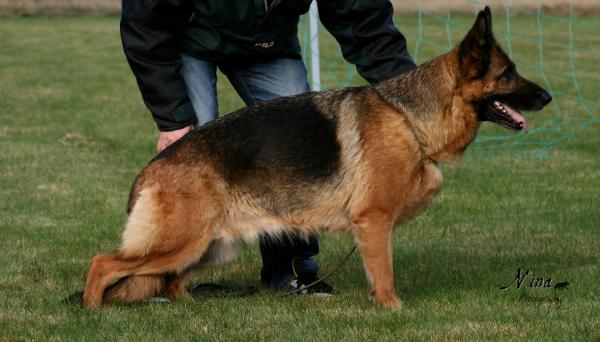 NKK  21166/06
Hip: SV: HD a-normal (a1) - Elbows: Not known
Jump to comments
Breed report
Mittelgroß,kräftig,sehr guter Ausdruck,normales Gebäudeverhältnis,gerade Front,langer,sehr gut gelagerter Oberarm,tiefe Hinterhandwinkelung,ausgeprägter Widerrist,feste Rückenlinie,harmonische Ober- und Unterlinie,gute Kruppenläge und-lage,Weit ausgreifendes Gangwerk,sehr gute Bewegungharmonie.Wesen sicher,TSB ausgprägt;läßt ab. Körmeister: Dieter Oeser 25.03.2011 Wiederankörung:Lutz Wischalla LBZ in Körklasse 1
Linebreeding
SCHH 2 BHP 1
2002
S 16771/2003
HD-FCI: A 1/2


Sire






SCHH3, FH
1998
SZ 2010154 (AKC DN10902401 10-05)
HD-SV: HD a-normal (a1)


Sire






SCHH3
1995
SZ 1932624
HD-SV: HD a-normal (a1)


Sire






SCHH3
1994
SZ 1903611
HD-SV: HD a-normal (a1)


Dam






BHP 1
1998
S 19690/98
HD-zuerkannt


Dam






SCHH3, FH
1994
SZ 1919865
HD-SV: HD a-normal (a1)


Sire






SCHH1
1994
S 19800/94 (FIN21899/01)
HD-


Dam






SCHH2
2002
NKK 08941/2003
HD-FCI: A 1/2


Dam







Groß,mittelkräftig,gestreckt,ausdrucksvoll,harmonische Ober- und Unterlinie,ausgepräter Widerrist,richtig gelagerte,lange Kruppe. Sehr gute Winkelungen der Vor- und Hinterhand,ausgewogene Brustverhältnisse,gerade Front,betont weit ausgreifendes Gang-werk.TSB ausgeprägt; läßt ab. V:Korrekt aufgebaute,gehaltvolle Hundin mit sehr guten Winkelungen.

SCHH3
1999
NKK 408400
HD-SV: HD a-normal (a1)


Sire






SCHH3
1996
SZ 2008846
HD-SV: HD a-normal (a1)


Sire






SCHH2
1996
S 38807/96
HD-SV: HD a-normal (a1)


Dam






KARAKTERTESTET
1998
NKK 06436/99
HD-SV: HD a-Ausland (a6)


Dam






SchH3
1991
SZ 1810104
HD-SV: HD a-normal (a1)


Sire








1995
NKK 13027/95
HD-SV: HD a-normal (a1)


Dam



Picture galleries
By Øyvind - 11.5 years ago
Picture of Askepott av Røstadgården Head!
By Øyvind - 11.8 years ago
SchH 1 Askepott av Røstadgården

User comments
This is a dog pedigree, used by breeders and breed enthusiasts to see the ancestry and line-breeding of that individual dog. The pedigree page also contains links to the dogs siblings and progeny (if any exist). For dog owners with purebred dogs this is an excellent resource to study their dog's lineage.
---
---
Contact information
Disclaimer
Privacy Statement
Copyright Information
Terms of Service
Cookie policy
↑ Back to top