This is a placeholder text
Group text
SG

 Apollo von Nimbus FO, BH, AD
Sire Born: 24. November 2004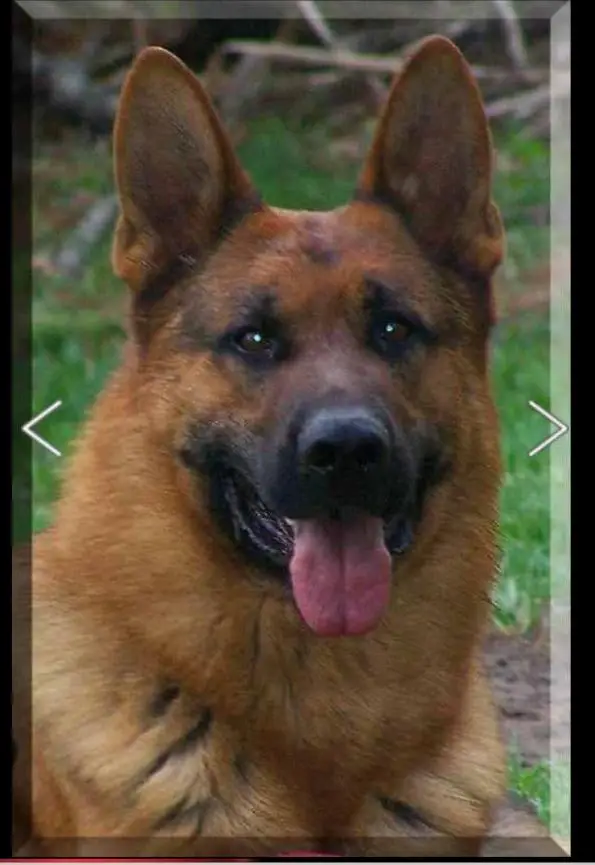 SZ  2154513 (AKC DN13199902)
Hip: OFA: Good (GS-75626G25M-PI) - Elbows: OFA: Normal (GS-EL20013M25-PI)
DNA: AKC DNA #V445436
Jump to comments
Breed report
No breed report has been submitted
Linebreeding
SchH3
2001
DKK 13021/01 (SZ 2119351)
HD-SV: HD a-normal (a1)


Sire







Groß, kräftig, sehr typ- und ausdrucksvoll, im richtigen Verhältnis aufgebaut. Hoher Widerrist, fester Rücken, gute Kruppe, sehr gute Winkelungen der Vor- und Hinterhand, korrekte Brustverhältnisse, gerade Front. Hinten und vorne geradetretend ist das Gangwerk weit ausgreifend und hat sehr guten Raumgewinn. TSB ausgeprägt; läßt nicht ab. V, Korrekt aufgebauter, trockener, fester, temperamentvoller Rüde.

SCHH3
1998
SZ 2031121
HD-SV: HD a-normal (a1)


Sire






SCHH3
1995
SZ 1932624
HD-SV: HD a-normal (a1)


Sire






SchH3
1995
SZ 1929464
HD-SV: HD a-normal (a1)


Dam






BHP2
1997
DKK 12014/97
HD-SV: HD a-normal (a1)


Dam






SCHH3, IPO3, BHP3
1994
DKK 01255/95
HD-SV: HD a-normal (a1)


Sire






BHP3
1992
DKK 12762/92
HD-FCI: B 1/2


Dam



SCHH1
2002
SZ 2113122
HD-SV: HD a-normal (a1)


Dam







Übermittelgroß, sehr typ- und ausdrucksvoll, trocken und fest, sehr gute Linienführung und Winkelungen, ausgeglichene Brustverhältnisse, mustergültige Front, sehr flotte, raumschaffende Gänge mit sehr gutem Nachschub und freiem Vortritt. TSB ausgeprägt, läßt ab. Besondere Vorzüge: Sehr harmonisch aufgebaute Hündin mit sehr gutem Bewegungsablauf.

SCHH3
1999
SZ 2070626
HD-SV: HD a-normal (a1)


Sire






SCHH3
1995
SZ 1928363
HD-SV: HD a-fast normal (a2)


Sire






SCHH1,IPO1
1996
NHSB 2105238 (SZ 2070625)
HD-SV: HD a-normal (a1)


Dam






SCHH2
1997
SZ 1982886
HD-SV: HD a-normal (a1)


Dam






SCHH3, IPO3
1994
SZ 1905990
HD-SV: HD a-normal (a1)


Sire






SchH3/IP3
1993
SZ 1858608
HD-normal


Dam






Picture galleries
By djc - 13.4 years ago
Here you will find working photos of SG Apollo von Nimbus.
By djc - 15.4 years ago
Apollo is the son of V1 Karat's Ulk and VA Ando Altenberger Land Daughter V Kimba vom Gimpelhof. VERY nice working dog, with geneticly full hard grips(as per renouned helper Steve House). Schutzhund title coming soon!
User comments
This is a dog pedigree, used by breeders and breed enthusiasts to see the ancestry and line-breeding of that individual dog. The pedigree page also contains links to the dogs siblings and progeny (if any exist). For dog owners with purebred dogs this is an excellent resource to study their dog's lineage.
---
---
Contact information
Disclaimer
Privacy Statement
Copyright Information
Terms of Service
Cookie policy
↑ Back to top