This is a placeholder text
Group text
V

 Tigra von Nummer-Eins IPO3 Kkl passed 
Dam born: 09. July 2012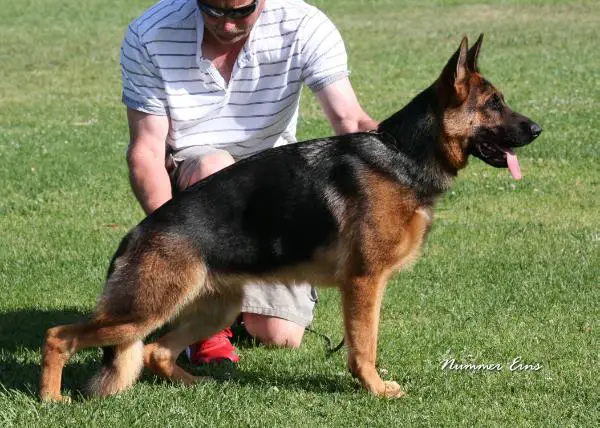 AKC  DN35065801
Hip: Not known - Elbows: Not known
Jump to comments
Breed report
No breed report has been submitted
Linebreeding
SCHH3
2005
DN 13034705
HD-SV: HD a-normal (a1)


Sire






SCHH3
2002
LOI 03/77115 (SZ 2148106)
HD-SV: HD a-normal (a1)


Sire






SCHH3
2000
SZ 2062851
HD-SV: HD a-normal (a1)


Sire






SCHH1
2000
LOI 00/105985
HD-SV: HD a-fast normal (a2)


Dam



SCHH2
2002
SZ 2105881
HD-SV: HD a-normal (a1)


Dam






SCHH3
1999
SZ 2042606
HD-SV: HD a-normal (a1)


Sire






SCHH2
1995
SZ 1942518
HD-SV: HD a-fast normal (a2)


Dam






IPO3
2010
AKC DN28452506
HD-SV: HD a-normal (a1)


Dam







Groß, mittelkräftig, gutes Verhältnis Höhe zur Länge, sehr schöner Typ und Ausdruck, sehr guter Kopf, hoher Widerrist, fester Rücken. Gute Länge und Lage der Kruppe. In der Vorhand gut, in der Hinterhand sehr gut gewinkelt, mit festen Sprunggelenken. Ausgeglichene Brustverhältnisse, korrrekte Front, vorne und hinten geradetretend, entwickelt raumgreifende Gänge mit wirksamem Nachschub. TSB ausgeprägt. 4/27/2012 -Jurgen Hoffmann

(not an exact translation of above Kör) - An extremely expressive, large strong and substantial female who is very well proportioned in the height to length, possesses a very beautiful type and a lively, noble expression. Very good head, high withers, firm back. Good length and lay of the croup. She is well angulated in the front with firm pasterns and very well angulated in the hind quarters with firm hocks. Balanced Brisket proportions, correct front. She steps absolutely straight in the front and back, she develops an expansive gait with a free front reach. Safe and self assured nature. TSB pronounced, Lets out.

SCHH 3
2005
CKC RS51789 (SZ 2246067)
HD-SV: HD a-normal (a1)


Sire






SCHH3
2001
SZ 2090514
HD-SV: HD a-fast normal (a2)


Sire






SCHH2
1999
SZ 2046759
HD-SV: HD a-noch zugelassen (a3)


Dam






SCH H1
2007
AKC DN17075605
HD-SV: HD a-normal (a1)


Dam






SCHH3
2002
SZ 2109990
HD-SV: HD a normal (a1)


Sire






SCHH3 FH
1998
SZ 2083713
HD-SV: HD a-fast normal (a2)


Dam






Picture galleries
By nummereins - 8.6 years ago
Tigra von Nummer Eins at San Diego Club show being shown under Herr Jürgen Hoffmann. Tigra made Senior Puppy Siegerin VP1.
By nummereins - 8.7 years ago
Tigra von Nummer-Eins at 6 months
By nummer ein - 9.2 years ago

User comments
This is a dog pedigree, used by breeders and breed enthusiasts to see the ancestry and line-breeding of that individual dog. The pedigree page also contains links to the dogs siblings and progeny (if any exist). For dog owners with purebred dogs this is an excellent resource to study their dog's lineage.
---
---
Contact information
Disclaimer
Privacy Statement
Copyright Information
Terms of Service
Cookie policy
↑ Back to top