This is a placeholder text
Group text
VA2

 Quenn vom Löher Weg SCHH3, FH Kkl 1 
Sire Born: 10. February 2003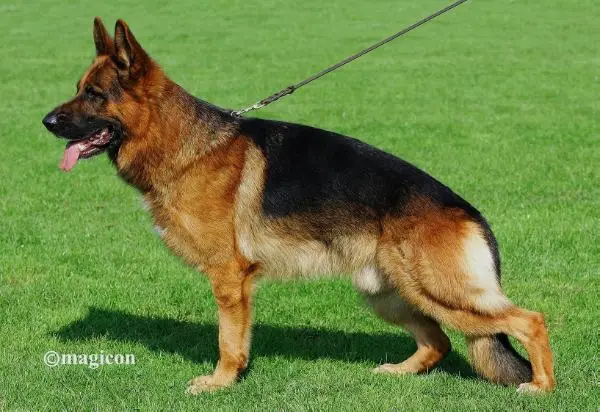 SZ  2119344
Hip: SV: HD a-normal (a1) - Elbows: SV: ED a-normal (a1)
DNA: Geprüft
Tattoo: G-M 6662
Jump to comments
Breed report
Groß, mittelkräftig, auffallend typ- und ausdrucksvoll, sehr gut pigmentiert, in sehr gutem Verhältnis aufgebaut, trocken und fest. Sehr gutes Gepräge, hoher, langer Widerrist, sehr harmonische Rückenlinie, sehr gute Länge und Lage der Kruppe. Korrekte Winkelungen der Vor- und Hinterhand, ausgeglichene Brustverhältnisse, gerade Front. Vorn- und hinten geradetretend, sehr flüssige, raumschaffende, kraftvolle Gänge mit sehr wirksamen Nachschub und freiem Vortritt, bei sehr guter Rückenübertragung. Sehr sicheres Wesen, TSB ausgeprägt, läßt ab. V:Vorzüge: Durch sehr gutes Rüdengepräge und viel Gebäudeharmonie auffallender, sehr gut pigmentierter Rüde. VI:Beratung für die Zuchtverwendung: Geeignet zur Verbesserung des Gepräges, der Gebäudeharmonie sowie der Pigmentation. Körort: Wildeshausen 12.03.2005 Körmeister: Günther Müller
Linebreeding
SchH3
1999
SZ 2058750
HD-SV: HD a-normal (a1)


Sire







Mittelgroß, kräftig, gehaltvoll, trocken und fest, sehr guter Ausdruck, sehr gute Gebäudeverhältnisse, sehr gutes Gepräge. Hoher langer Widerrist, gerader, fester Rücken, gute Länge und Lage der Kruppe. Sehr gut gewinkelt, ausgeglichene Brustverhältnisse, korrekte Front, geradetretend, sehr geräumige, kraftvolle, flach über dem Boden gehende Gänge bei sehr guter Erhabenheit. Sicheres Wesen, TSB ausgeprägt; läßt ab. Mittelgroßer, korrekt aufgebauter Rüde. Geeignet zur Verbesserung der Gebäudeharmonie und des Größenfaktors

SchH3
1995
SZ 1932624
HD-SV: HD a-normal (a1)


Sire






SCHH3
1993
SZ 1859356
HD-SV: HD a-normal (a1)


Sire






SCHH2
1992
SZ 1834230
HD-SV: HD a-normal (a1)


Dam



SCHH1
1994
SZ 1905993
HD-SV: HD a-normal (a1)


Dam






SCHH3
1990
SZ 1769704
HD-SV: HD a-fast normal (a2)


Sire






SchH1
1990
SZ 1770213
HD-SV: HD a-normal (a1)


Dam






SCHH2
1998
SZ 2038495
HD-SV: HD a-normal (a1)


Dam







Groß, mittelkräftig, sehr guter Ausdruck, normaler Widerrist, gerader Rücken, etwas kurze, betont abfallende Kruppe. Gute Vor-, sehr gute Hinterhandwinkelung. Ausgeglichene Brustverhältnisse, gerade Front, geringfügig engtretend, kraftvolle, geräumige Gänge bei guter Rückenübertragung. Sicheres Wesen, TSB ausgeprägt; läßt ab. V. Ausdrucksvolle, temperamentvolle Hündin mit harmonischem Gesamtaufbau. VI. Zuchtpartner mit ausgeprägtem Widerrist und sehr guter Kruppe bevorzugen.

SCHH3
1996
SZ 1964761
HD-SV: HD a-normal (a1)


Sire






SCHH3
1993
SZ 1873963 (LOI 99/81696)
HD-SV: HD a-normal (a1)


Sire






SCHH2
1994
SZ 1894358
HD-SV: HD a-fast normal (a2)


Dam






SCHH2
1996
SZ 1990640
HD-SV: HD a-normal (a1)


Dam






SCHH3, FH3
1990
SZ 1845138
HD-SV: HD a-fast normal (a2)


Sire






SCHH1
1993
SZ 1901792
HD-SV: HD a-normal (a1)


Dam






Picture galleries
By artero - 11.1 years ago
Quenn in the Veteran class

By artero - 11.8 years ago
Quenn the Legend !
By Nishanth - 12.1 years ago
By fda - 12.8 years ago
VA2 Quenn vom Löher Weg in ulm

User comments
This is a dog pedigree, used by breeders and breed enthusiasts to see the ancestry and line-breeding of that individual dog. The pedigree page also contains links to the dogs siblings and progeny (if any exist). For dog owners with purebred dogs this is an excellent resource to study their dog's lineage.
---
---
Contact information
Disclaimer
Privacy Statement
Copyright Information
Terms of Service
Cookie policy
↑ Back to top