This is a placeholder text
Group text
SG

 Kazan von Wendelin AD, FPR1, TDX, SECURITY K9
Sire Born: 03. March 2015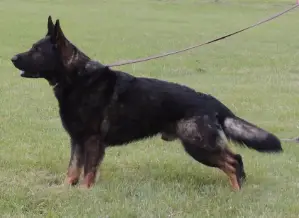 CKC  CE596618
Hip: OFA: HD-GOOD, SV: HD A-Normal - Elbows: OFA: ED-NORMAL, SV: ED A-Fast Normal (A2)
microchip: 900108001347466
Other health issues: DM-N/N OFA LTV: NEGATIVE, SV LÜW: TYPE 1
Jump to comments
Breed report
No breed report has been submitted
Linebreeding
IPO 3 SECURITY K9
2010
CMKU 78181/10 (CKC 1127418)
HD-FCI: A 1/2


Sire






SCHH3, IPO3, BH
2004
CMKU 54254/04/07
HD-Dänemark


Sire






SCHH3 ( SG-WUSV ) IP3 ( SG-FCI-WM ) ZVV1
1999
CMKU 36464/99/01
HD-0/0 (CZ)


Sire






SchH3, IPO3, FH1, ZPS1, SVV1, ZVV1, UMCR IPO
1999
AKC DL78326111 (CMKU 41140-00/99/01)
HD-0/0 (CZ)


Dam






ZVV1, FPr2
2006
CMKU DS/52474/04/06
HD-0/0 (CZ)


Dam



ZVV1
1997
CMKU DS 29822/97/9
HD-SV: HD a-normal (a1)


Sire






ZVV2,IPO1,ZPS1
1999
CMKU 37730/99
HD-0/0 (CZ)


Dam






IPO 3
2011
CKC YC393059
HD-OFA: Good ()


Dam






ZVV3
2004
CMKU 53548/04/06 (CKC 1109234)
HD-1/2 (CZ) SV: HD a-fast normal (a2)


Sire






ZVV2
2000
CMKU DS/40979/00/02
HD-0/0 (CZ)


Sire






ZVV1

CMKU 27055/96/00
HD-0/0 (CZ)


Dam



ZVV1
2004
CMKU 54500/04 (CKC 1109885)
HD-SV: HD a-normal (a1)


Dam






ZVV2, IPO2, SCHH1, ZPO1, FPR3
1998
CMKU/ DS/34994/98/02
HD-0/0


Sire






ZVV1
2001
CMKU 42013/01/03
HD-SV: HD a-normal (a1)


Dam






Picture galleries
By eg21horse - 5.4 years ago
Kazan achieves the "BH" and "AD"
By eg21horse - 7 years ago
User comments
This is a dog pedigree, used by breeders and breed enthusiasts to see the ancestry and line-breeding of that individual dog. The pedigree page also contains links to the dogs siblings and progeny (if any exist). For dog owners with purebred dogs this is an excellent resource to study their dog's lineage.
---
---
Contact information
Disclaimer
Privacy Statement
Copyright Information
Terms of Service
Cookie policy
↑ Back to top