This is a placeholder text
Group text
by Ziva on 12 March 2021 - 11:03
Does anyone know anything about these bloodlines, Kiridesja, Colombian, Nash Van Hildernisse, Bristol Vom Patriot?
by Алёна on 17 August 2021 - 04:08
Андора с Вятских Холмов
by GSCat on 17 August 2021 - 17:08
I know nothing, but would also like to learn.

When you track the pedigrees back, which line(s) do they come from?

Are these dogs Russian line German Shepherds or Eastern European Shepherds, which some call a separate breed?





by Rik on 17 August 2021 - 19:08
don't know about Bristo vom Patriot, but Drago vom Patriot is WGWL.
Nash pedigree is on here.

by Hundmutter on 18 August 2021 - 02:08
Nash's Breed Report  [also his Dam's]  written in Dutch, so KNPV training ? Not a huge dog @ 32 kg. Does any of this help with determining how his ancestry / genetics might figure ? Generation 5 seems typical German working breeding of late 80's / 90s.

by kitkat3478 on 07 September 2021 - 06:09

I have a question also about the Russian boodlines. And I dead serious with this question, how is it that once these same showline dogs are bred in russia, suddenly they are producing solid black showline pups, when i have not seen or heard of them being produced from same exact lines in the United States or Germany. believe me, i have done a fair share of pedigree research , i search all offspring, aunts, uncles and don t find blacks, until they get to either Russia, or Serbia.
Now i do know of one breeder that crosses her dogs just enough to keep them up to par with the work ability and the conformation. She has some of the most beautiful showline dogs, perfect in every way, but her colors can be explained by rersearching her dogs There are a good many tho that the pedigrees don t shed no light on. They go back to same red and black, same red and blacks then, wham, black dog, black dog, and not only are some black, they are beautiful long coat solid black shepherds from traditional stock coat red and black showlines. Have the Germans been hiding their black showline dogs for all these years, as well as the American and Canadian Breeders.
Anyone know any helpful answert or explanation for this> Just curious. Has the black genes been masked until these more recent years?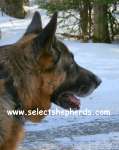 by Sue-Ann on 07 September 2021 - 08:09
There is a dominant black gene.

by Rik on 07 September 2021 - 09:09
is the dominant black gene a mutation? unless I missed something, black was recessive in the GSD until the Russian dogs. have always been curious. have only seen pics, but some handsome dogs.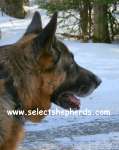 by Sue-Ann on 07 September 2021 - 13:09
There's an old thread here on PDB :

https://www.pedigreedatabase.com/community.read?post=607513-the-dominant-black-gene

...that discusses the dominant black gene.
by duke1965 on 07 September 2021 - 13:09
not much russian about it, dutch and german lines, I sold multiple dogs to russia, doesnot make them russian lines LOL
kiridisja is jan louwerens from friesland(north part of netherlands), seen some nice dogs from him back in the days when I trained overthere, Nash van de hildernisse was owned by Jan en Patty (kiridisja
---
---
Contact information
Disclaimer
Privacy Statement
Copyright Information
Terms of Service
Cookie policy
↑ Back to top