This is a placeholder text
Group text

by funky munky on 02 April 2010 - 07:04
I haven't been here for some time, for various reasons, none worth mentioning, but logged in 3 days ago and all I can say is WOW! I have spent the past 3 days just catching up reading all the latest threads and for the first time in many many years I am excited about the future of the GSD in the UK. It is brilliant to see all the posters here from the UK united and so determined in the fight to take the GSD here to a better future. At long last we seem to be winning the war against the KC that have always held us back, at long last forward thinking people actually putting in place, long term plans for a brighter, healthier, future for the correct International GSD. I stand up and applaud those Clubs that have not signed the KC's proposal, The GSD League, and all the individuals who have taken a lot of flack for their firm stance, working away in the background for the future, and the very outspoken people here taking it in the neck from the doubters, myself included giving some of the flack. It is also fantastic to see the W/L and S/L putting aside their differences for the betterment of our beloved breed. Thank you ALL, for giving this old lady the pleasure of seeing the GSD in the UK progress to a place where it belongs, equal to the rest of the world. I am not naive enough to think that there is not a long road to go, but at last we are on that road, I may well not see the end result, but I am happy knowing A NEW DAY HAS BEGUN!! To all those responsible for what is happening keep up the good work, stay united, I KNOW you can do it. I know that our numbers are small, at the moment, but from small acorns grow large oaks!!! I do not think the future is bright, I KNOW THE FUTURE IS BRIGHT, onward and upward. Excited for the future..... Liz.

by missbeeb on 02 April 2010 - 07:04
Elizabeth!  Where have you been?  Does your husband know you're on here?  LOL  Great to see you back!

by hamza166 on 02 April 2010 - 09:04
Yeah i just came back about 2 days ago as well. I was amazed.
The GSD certainly has a bright future ahead of it.

by beetree on 02 April 2010 - 12:04
 Welcome Back! Nice to see you again, and posting on the board. 

by hamza166 on 02 April 2010 - 13:04
Beetree: thank you.

by Aileen Ann Mathieson on 02 April 2010 - 23:04
NO FEAR



You are sooooooooooooooooooooooooooooooooooooooooooooooooooooooooooo WRONG.

There is always a fly in the ointment - but do we care - nooooooooooooooooooooooooooooooooooooooooo.

Read the other posts - not all Showline dogs are sent to Germany - they do their stuff here in the UK and there is proof of that - if  you want to stay under the thumb of the KC then do be it - FREEDOM OF CHOICE is the flavour of the month these days - not Dictatorship and Bullying and negative entities like you.

Have a good life.

Aileen

by jaymesie51 on 03 April 2010 - 08:04
No Fear strange name you use why not use your real name if you have No Fear    we all know why, you are scared because you do not want to be held accountable for what you say so as i said strange choice of name
jim h
by noddi on 03 April 2010 - 08:04
have to agree with yu Aileen and Jim.No Fear,i am 58,and was at the beginning totally against all this and for Not going away from the KC.due to their underhanded tactics,disgusting way they have treated certain people in this breed.ie our crufts JUDGE AND BEST OF BREED.the way they say 1 thing then do another without informing the other party,I HAVE CHANGED MY MIND.my freedom of choice ,nuthin to do with anyone else.i dont like the way the kc is going.i can see in the very near future that they will be telling us who our judges will be for our own champ.shows and i for one will NOT ACCEPT AN ALSATIAN PERSON TO JUDGE MY CORRECT ANIMAL.Carole S.
by bazza on 03 April 2010 - 08:04
NO FEAR..... Just click on the user name and read his/her last posts, interesting reading expert in hearsay!!!!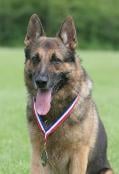 by Mystere on 03 April 2010 - 17:04
If I may, I would like to put in my 2 American cents :-) (is that tppence?) I applaud the effort to move toward promotion of correctly-structured gsds, health clearances, and proof of working ability/traits. We had to do the same in the US. It can be done. Everyone and everything begins with "baby steps." :-)
---
---
Contact information
Disclaimer
Privacy Statement
Copyright Information
Terms of Service
Cookie policy
↑ Back to top