This is a placeholder text
Group text
V1 (OG Chiangmai) 2020

 Nunoi vom Branch Mark SchH1 Kkl 1 
Dam born: 12. January 2017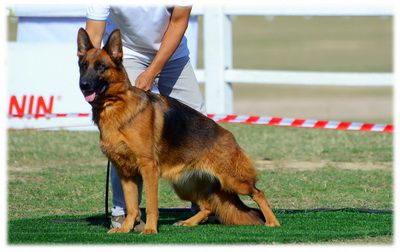 GDAT  
Hip: a-noch Zugelassen - Elbows: Normal
Tattoo: V-0030
microchip: 900079000472770
Jump to comments
Breed report
No breed report has been submitted
Linebreeding
IPO 3
2012
SZ 2280685
HD-SV: HD a-fast normal (a2)


Sire






SchH3
2009
HR 28328 (SZ 2271652)
HD-SV: HD a-normal (a1)


Sire






SCHH3
2007
SZ 2203726
HD-SV: HD a-normal (a1)


Sire






SCHH1
2006
SZ 2201114 (HR 28248)
HD-SV: HD a-fast normal (a2)


Dam






SCHH2
2008
SZ 22211199
HD-SV: HD a-normal (a1)


Dam






SCHH3
2003
SZ 2138918
HD-SV: HD a-fast normal (a2)


Sire






FH1, SCHH3
2000
SZ 2076236
HD-SV: HD a-fast normal (a2)


Dam






SCHH1
2013

HD-Normal


Dam






SCHH3
2008
SZ 2220389
HD-SV: HD a-fast normal (a2)


Sire






SCHH3
2003
SZ 2123269
HD-SV: HD a-fast normal (a2)


Sire






SCHH1
2005
SZ 2159838
HD-SV: HD a-fast normal (a2)


Dam






SCHH 1
2008
SZ 2229713
HD-SV: HD a-normal (a1)


Dam






SCHH3
2006
SZ 2190046
HD-SV: HD a-fast normal (a2)


Sire






SCHH 1
2006
SZ 2178956
HD-SV: HD a-normal (a1)


Dam






Picture galleries
By trirat - 2.3 years ago
Nunoi received 1st placement as V1.
By trirat - 4.6 years ago
1st Place Female 9-12 Months Class
By trirat - 5.1 years ago
User comments
This is a dog pedigree, used by breeders and breed enthusiasts to see the ancestry and line-breeding of that individual dog. The pedigree page also contains links to the dogs siblings and progeny (if any exist). For dog owners with purebred dogs this is an excellent resource to study their dog's lineage.
---
---
Contact information
Disclaimer
Privacy Statement
Copyright Information
Terms of Service
Cookie policy
↑ Back to top