This is a placeholder text
Group text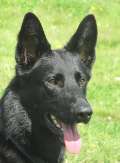 by juliedon on 03 April 2022 - 09:04
Question regarding nerves and protection work.

If a dog is barking but backing off from the hide, but will bite the sleeve, is this nerves and should be written off as no good to continue for protection.

by Baerenfangs Erbe on 03 April 2022 - 12:04
Without having a visual, no one is really able to answer the question.

by Sunsilver on 03 April 2022 - 13:04
Agree with B.E. Really need to see this 'in the flesh' to be able to get the full picture of how the dog is feeling.
by bladeedge on 03 April 2022 - 15:04
Al doe I agree with the post above .a couple of questions what age is the dog that could be a big factor .how fast does he enter the hide .what is his barking like and where are you positioned .
by Klossbruhe on 03 April 2022 - 16:04
Very few dogs have to be as you put it 'written off' for protection work if your training director and helper know what they are doing. If your helper is a macho guy putting a lot of pressure on the dog without the proper foundation, you should go somewhere else. With proper training you can take most dogs, even weak ones, and get them to do protection work. I am not saying you can make weak dogs look fantastic, but you can usually get them to do well enough to pass an IGP 1. Of course, if the dog has no prey drive or defense drive and is frightened of people in general, then that is not a dog for protection. Also, if you are speaking about competing in regional or national competitions, forget it with a dog that is backing away from the helper. But if you are talking about a normal pet dog going to a club trial, then the dog probably simply needs a better foundation and training helper.

If it is a pet dog, the dog should be having fun. If the dog is not having fun and is stressed out, either the training has been bad or its temperament is not suitable. I have seen many a good dog ruined by helpers who did not know how to train any dog but the hardest kind. They would put too much pressure on a dog without the proper foundation work. I have also seen dogs that in the beginning did not look especially great, but with the proper training, turned into very good dogs in protection.

As a very well-known German trainer once told me, "I can chase any dog off the field. But my job is to build the dog's confidence so that it believes it can chase me off the field." Good training requires patience and Fingerspitzengefuhl , i.e. a feeling for dogs.

Finally, besides not saying whether the dog is male or female, or the age, or what build up education it had going into the blind, it is impossible to give an answer.

Also you do not say, how far the dog backs away from the helper. If it is only a step or two and continues to bark at the helper, this is certainly fixable.

by Rik on 03 April 2022 - 20:04
imoo, I would keep on with the dog until it showed very weak nerves and/or ran off the field. and I would go very, very slow.

but I'm an industrial electrician, robot expert, not a professional dog trainer.

Rik

by Hundmutter on 05 April 2022 - 03:04
Klossbruhe makes a huge amount of sense (to this member, who does not do IGP but knows her GSDs well). My first reaction on seeing your OP, Julie, was "How on earth are we supposed to respond to that ?" There's no video  (a still shot would not help); you tell us nothing else about your dog. Or who you are working with, whether a pro Trainer, or someone else.
 
---
---
Contact information
Disclaimer
Privacy Statement
Copyright Information
Terms of Service
Cookie policy
↑ Back to top