This is a placeholder text
Group text
by Debbie1056 on 04 January 2022 - 20:01
I have GSD Samson Scearce.
I can find Shepherd Harvey https://www.pedigreedatabase.com/german_shepherd_dog/dog.html?id=2608144-shepherd-harvey?_v=20170302041427
Sired by Muck Von Der Blue Haus https://www.pedigreedatabase.com/german_shepherd_dog/dog.html?id=750319-muck-von-der-bleu-haus?_v=20181024194647
Dam is Autumn Storm Von Hobbs Haus https://www.pedigreedatabase.com/german_shepherd_dog/dog.html?id=2316216-autumn-storm-vom-hobbs-haus?_v=20160212022847

How do I determine the country or region of origin?

Thank you for your assistance
by GSDHeritage on 04 January 2022 - 22:01
by Debbie1056 on 05 January 2022 - 00:01
Thank you. I have Samson's AKC Certified Pedigree. I am trying to figure out if his linage is West German Working, East German Show, etc. This is why I joined the Pedigree Database. Is there any way to determine this? I know Samson was born in the USA. From looking at his pedigree on the database, I think he would be a working GSD.

Thank you for your response to my initial question.

by Sunsilver on 05 January 2022 - 02:01
The German registry body has the initials SV in front of the dog's registration number. Most of Harvey's ancestors are German. East Germany no longer exists, but if you go far enough back you many see the letters DDR in front of a dog's registry number, which is the abbreviation for East Germany.

Are any of Samson's ancestors in the Pedigree Database? What are some of the names?
As for knowing if the German dogs are show or working lines, show lines are always black and red. Working lines can be black, black and tan, or sable. Other than that, you need to know the kennel names. Harvey's German ancestors are working line dogs, and there are some very good ones in his pedigree.

by mrdarcy on 05 January 2022 - 03:01
"show lines are always black and red. " not 100% correct they are mostly but you can get sables and bi, I myself owned a couple of bi's years ago.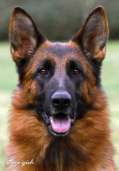 by bea on 05 January 2022 - 07:01
there are also have sable and black showlines that are increasing at the moment, your dog is from AKC lines, further back West German working line
by Debbie1056 on 05 January 2022 - 13:01
Thank you all for your input. From your information. I would say Samson Scearce lenage is a German working line GSD although the past several generations were American
---
---
Contact information
Disclaimer
Privacy Statement
Copyright Information
Terms of Service
Cookie policy
↑ Back to top