This is a placeholder text
Group text

by Kalibeck on 02 February 2021 - 02:02
The last of my puppies has left me. Bitty crossed the Bridge a few moments ago, gone to find her person Carl, & her sister Ansgar, & all her brothers.
She will be greatly missed. The smartest, most mischievous, sparkly eyed little rebel there ever was. Carl never trained her to do anything! Not even sit! Yet she was a wonderful, opinionated, companion with such a sense of humor. I wish I could post her picture here, but this new editor befuddles me. Love you Bitty. 💔

by Hundmutter on 02 February 2021 - 03:02
So sorry Jackie. Dont't know what else to say to you, that time had to come yet it must be awful. Try to hang on to all the good stuff & memories. Lx

by Koots on 02 February 2021 - 03:02
Sounds like she was a real character - gone all too soon, but she left you with many good memories.
by Nans gsd on 02 February 2021 - 13:02
AAAAAWWWWWW I am so sorry to hear this sad news; especially that she was your last. Know the pain all too well. Sending you healing hugs and thoughts. Nan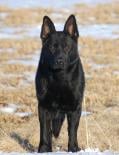 by Jenni78 on 02 February 2021 - 16:02
I just happened to log in today and see this...so sorry, Jackie. <3 p.s. Don't feel bad- I can't post pics either LOL

by Q Man on 02 February 2021 - 19:02
I am so sorry Jackie...I'm afraid everyone here understands your pain...I mean words can't express how it feels...
I always just think of the good which a dog has brought...I refuse to dwell on their leaving...You have such good memories to think about...

~Bob~
by hexe on 03 February 2021 - 02:02
My heart goes out to you, Jackie...so many memories, and such good dogs they turned out to all be, all because you weren't home when Carl decided he wanted Kali to have puppies with Wolf. You may not have planned on that litter, but they certainly had a significant impact on the lives of everyone they touched.

by mrdarcy on 03 February 2021 - 03:02

by DuganVomEichenluft on 03 February 2021 - 09:02
Sorry for your loss.

by TIG on 05 February 2021 - 01:02
Oh my lord Jackie, my thoughts are with you. Sometimes it's just too much. Certainly harder as we & they both get older.
Take care. Sent you pm.
---
---
Contact information
Disclaimer
Privacy Statement
Copyright Information
Terms of Service
Cookie policy
↑ Back to top