by generic on 13 December 2020 - 10:12
This is quite the rabbit hole and I feel I've used all my resources.

In not to distant future I'll be looking for a WL male pup and am having a hard time to discern which breeders in Europe should I even be looking at at this point. Stability of the dog is of the utmost importance, it must be safe around children. Best possible nerves as well and an off-switch.

I do intend on titling it in IGP but it's much more important that the dog can be a part of the familiy, meaning that it can tag along to most places. I'm not looking for a "points" dog, at least not that much that I'd be willing to sacrifice stability or nerves, just one that can be titled. Dog will live with us, he must be able to be a part of the family. I realise it's not all on the dog but why set yourself up to fail?

So, I'd like for it to have the right drives with a bit higher threshold. My current dog is very much prey driven and thankfully good with kids. His threshold could be higher, though. If a stick is picked up the game is on. A bit dog reactive as well.

I appreciate all and every input, even if you'll just share your experience with your dog in a family setting. It's not always easy juggling driven dogs and young kids. I'd love to hear from those with top dogs for sport and how they manage them "off field".

I kind of feel like I should state that I'm not looking for a low drive and pet only dog. Again: I'm set on titling him. As driven as my current dog is and god know it can sometimes be pain in the behind I wouldn't trade it for a lower drive dog. Even though I'm far from a pro I find that drive a great tool.

Sorry for all the typos.



by Q Man on 13 December 2020 - 10:12
There are many types of dog to want...I mean you want a dog that will do what you want but one that keeps you interested in the work...but not one that's not got the correct drives to make training fun...
Genetics are one thing and a must but Training and Raising a dog with your demands is another...
If you'd get a dog that I like it might not be a good fit for you...It might just be a pain in the butt...but it's what I like and demand...
Are you thinking about getting a puppy or young adult or an adult...Each has their positives and negatives...Not everyone has the ability and knowledge to raise a puppy for the work and to be able to live with them as well...
Let me know more about what you're demands and experience is and I'd try to help you find a good breeder...
You're welcome to PM me if you'd like...

~Bob~
by ValK on 13 December 2020 - 12:12
from your description it seems like your dream dog should have a decent level of desire for active life but at same time possess calm intelligence, founded on mental seriousness of behavior upon maturity.
if so, then perhaps to begin with you need to make a list of so call "old school" breeders, who was involved in breeding as far back as 70s-80s, had experience in regard of requirements of that era and do still loyal to that "outdated" practice and not been drawn into heavy commercialization of today's breeding.
secondly you should understand, even if you get luck to get in touch with such breeder, it's not the end of story.
because of rarity of such type, there will be not only you, who in search of that kind of dog. thus be ready to compete with others (most likely breeders or official institutions) for right to buy that dog.
that gonna be quite a task to complete.
by generic on 13 December 2020 - 13:12
Yeah, I figured my post'll come off as if I want to sit on two chairs at the same time, which is totally my fault. Should've maybe kept it shorter.

I guess what I wanted to say is that I'm looking for a stable dog that I can title. Like I said I currently have a very prey driven dog that wants for nothing in terms of mental stimulation. Tracking, obedience, running, playing fetch, ...

So, stable would be the key word. Not a dog bred for extreme drives with nerves that can't handle them.

Yeah, kind of what ValK said. Thank you.


by Koots on 13 December 2020 - 15:12
Are you set on getting one from Europe? If in N.America then there are some very good dogs on this side from Euro lines. Will you be wanting to go to the breeder to look at the pups, or will you want a pup picked for you and shipped?
by generic on 13 December 2020 - 16:12
Yeah, I'm located in Europe. I'd trust the breeder to pick the pup for me and then have it shipped or go pick it up.

by Koots on 13 December 2020 - 19:12
Contact Duke1965 on this site - he can fix you up with what you want, it may just take a bit of time.
by generic on 14 December 2020 - 10:12
Thank you, will keep that in mind!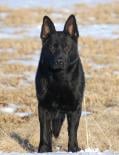 by Jenni78 on 14 December 2020 - 19:12
I am in contact fairly regularly with Manfred Teuber (von Prevent), Gunter Schoenmann (vom Hagenberg) and Marcin Pisarek (Uranium Zwinger). All three of these guys know dogs and are honest, experienced breeders who have the type dog you want. I have dealt with all of them. My foundation female was from Gunter and I have a current stud dog from Marcin, whose sire is owned by Manfred. Again, great guys, all 3 of them, who value temperament over simply points and would be great resources for what you're looking for. Best of luck.
by generic on 15 December 2020 - 10:12
Jenni78, thank you very much, can't say how grateful I am for the recommendations! Will check them out.

Would you please expand a bit on your foundation female in your current stud? What are they like?
---
---
Contact information
Disclaimer
Privacy Statement
Copyright Information
Terms of Service
Cookie policy
↑ Back to top