by bkawalec on 11 December 2020 - 01:12
I'm new to the whole world of breeding and showing German shepherds internationally so I had a question for those more knowledgable. Would it be easy for someone to create a fake listing for a dog showing its titles and pedigree? I'm not sure if I'm even phrasing this question right, but I basically want to know if looking a dog up on the official SV website or here on Pedigree Database is a reliable way of telling if the dog really has accomplished the titles its owner says in has and if its parents are who the owner claims they are? Or would it be easy for someone to "fake" results to cheat? I know, for instance, that you can easily look up online to see who won the last year's world series. Someone could lie, but they'd be easily found out simply by looking up the results. Is there a place where I can verify results for German Shepherd dogs? Hope this makes sense.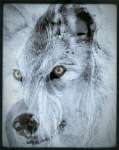 by Fantom76 on 11 December 2020 - 01:12
To get Free accurate pedigrees, For he GERMAN SHEPHERD in addition to PDB I would suggest

https://www.sv-doxs.net/
http://schaeferhunden.eu/
https://www.working-dog.com/

Of course purchasing a pedigree from the country where the dog was first registered is the most accurate way, but this may not have all titles because if the dog may was subsequently registered in another country then these titles may not be on the original pedigrees.-




by GSCat on 11 December 2020 - 01:12
PDB mods/administrators do a great job of verifying information about the dogs entered into the database, but unless someone updates a pedigree every time a dog earns something, etc., the information may be incomplete/out of date.
You can verify AKC titles if the dog is AKC registered by searching for the dog by name and breed or registration number on the AKC website. The titles (letter abbreviations used with the name) appear with the name, but not when/where a title or certification was earned
https://www.apps.akc.org/apps/store/search/dog_lookup.cfm?returnpage=undefined&_=2770
You can also verify the results of specific AKC events on the AKC website. Not all winners are AKC registered, but they're all listed
https://webapps.akc.org/event-search/#/search
by bkawalec on 11 December 2020 - 22:12
Thanks. Any more feedback and suggestions welcome.

---
---
Contact information
Disclaimer
Privacy Statement
Copyright Information
Terms of Service
Cookie policy
↑ Back to top