by Acameron on 31 October 2019 - 15:10
I was curious if anyone could share based on recent experience rough estimates, excluding cost of the dog, what it would cost to ship/import a single german shepherd from either the Czech republic or Germany to Dallas, Texas.
by hexe on 31 October 2019 - 16:10
Adult or pup? Shipping alone as cargo, or as excess baggage for someone traveling back from Europe to the US?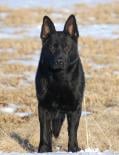 by Jenni78 on 31 October 2019 - 18:10
From CZ, it's less. I just (April of this year) shipped a large male from CZ to O'hare for around 1300
usd, IIRC. From Germany, it's at least $1800usd. I paid $1800 to get Madox, one of my studs, here over 3 years ago. From CZ, I really like R-Cargo. They have always done a great job at a super reasonable price.

The most recent dog I have shipped was from Slovakia to Chicago, a pretty good size female, Jessy Dambldor, and paid a bit over 900eu for that. Now, that was on a weekend and I wasn't allowed to broker her myself because the local office was closed, so I had to pay a customs broker on top of that (that is paid on a percentage of your purchase price). I highly recommend Ellen Chance with Jean Duncan Customs Brokers. She operates out of GA but can handle most larger cities.
by Acameron on 31 October 2019 - 18:10
Young dog around 10mos old. I think shipped as cargo (I hate the sound of that). We are not doing a round trip to pick her up. From what I've found that is the only option with the domestic airlines I'm familiar with. We have never bought a dog outside the US and are deciding if it's worth the extra work vs. Getting a more local offspring of an imported dog.
by Blksableworkingdogs on 31 October 2019 - 19:10
I just imported two male pups in September, they shipped in one crate, cost from Czech was $1,300

I used this company below and I just cant say enough good things about Pavel Kliment, Im telling you he took care of EVERYTHING and constantly kept me updated.

Pavel Kliment

Animal Transport Worldwide

_______________________________

Nova Ves 61, Mratin

250 63 Praha -vychod

Czech Republic



tel.+420 315 601 205

gsm: +420 723 624 159



www.animaltransport.cz
by duke1965 on 01 November 2019 - 01:11
Germany is heavily under influence of animal right activists and they make you ship a medium size dog in a crate for a little pony, take Prague or amsterdam, so would advice petr novotny or animals to fly
by Centurian on 01 November 2019 - 07:11
$ 1300. for two pups . Wowwww For that cost , I would suggest checking into a round trip airline ticket cost with additional cost of taking two pups back with you as excess baggage as I did with some ailrlines. Even if the cost is about the same as having them shipped to you , IMOp you have a major, major , major advantage : you can evaluate the pups before you finalize the sale ! I have never bought a pup from Europe and I have gotten bought many from Europe without , having flown and brought the dog back myself .. just saying.. I avoid at all costs any broker too , whom may also be getting a piece of the action on the sale . IMOp if people would do this , if the dog is that valuable to them to do this .. IMOP ... there would not be so much gripping on this PDB about how people got ripped off... again , just saying ...
by jillmissal on 01 November 2019 - 11:11
I've imported several from Europe and the shipping cost was always more than the purchase price of the dog. It's just the way it is. Personally I find the dog is safer as designated cargo rather than as 'baggage' - I did some horse handling on airlines and it's much nicer for the animals if it's a cargo plane. That way they travel in the cabin rather than in the cargo hold.

by Western Rider on 01 November 2019 - 11:11
Centurian The broker Jenni78 was talking about was a custom service broker. You cannot go without paying Customs their due now can we.
by Klossbruhe on 01 November 2019 - 12:11
I did not think much of Animals to Fly out of Amsterdam. They used a huge wooden crate for my 13 month GSD not sanded, wood slivers were possible. They were not cheaper than Pet Air or Gradlyn both of whom I have had much better experience with. Lufthansa and United have excellent facilities in Chicago when your dog lands and very careful in flight care. I would go with them if given a choice.
---
---
Contact information
Disclaimer
Privacy Statement
Copyright Information
Terms of Service
Cookie policy
↑ Back to top