by feistyjen477 on 19 October 2019 - 01:10
Hi all, Wondering if I could get some opinions on my girl. Shes 7 months old. I have my points I hope to improve down the road. She is my first home bred baby to show.
by Rik on 19 October 2019 - 01:10
well, just from your description, I think she is great. but unless you are willing to post a photo or video I can't say much else.

Rik
by feistyjen477 on 19 October 2019 - 01:10
Won't let me attach pictures.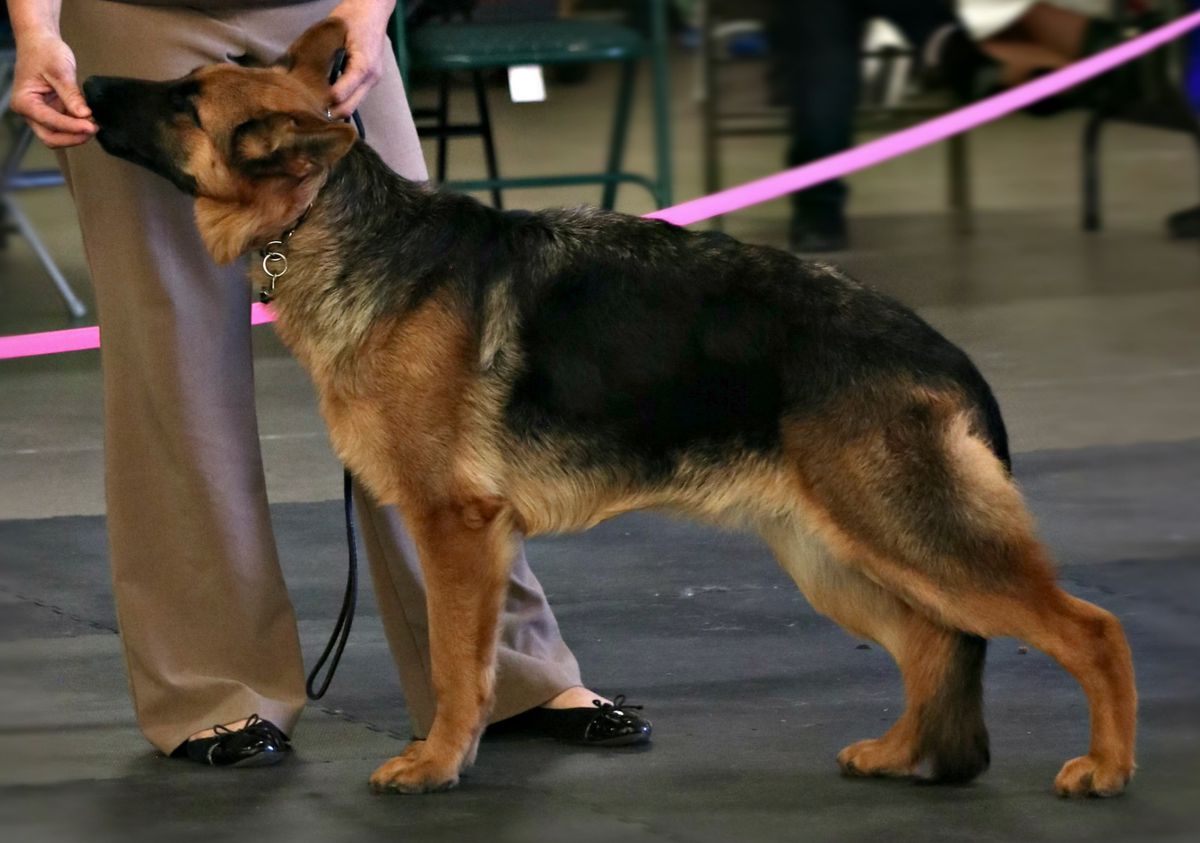 Here's her pedigree with pictures there...
http://www.pedigreedatabase.com/german_shepherd_dog/dog.html?id=2906349-invelvets-a-millions-dreams
Edited by Western Rider Here she is
by feistyjen477 on 19 October 2019 - 04:10
Thank you Western rider!!
by Nans gsd on 19 October 2019 - 12:10
Yummy. I like her a lot however, wgsl's are my fav. Best of luck with her and above all, have fun with her. Nan
However, could not pull up pedigree.

by bantam7 on 23 November 2019 - 23:11
She is a pretty little girl from some handsome parents, her sire especially is a stunner.

My armchair critique of her is as follows: Nice bitch head, great pigment and bone, good length of neck with clean appearance, high withers, a true straight and slightly sloping back that appears strong. Correct hind angulation; enough to give that showy stride without affecting soundness. Thigh could be a little wider and hocks a little shorter. A touch too straight and maybe a little long in pasterns, nice feet with good arch. Short steep croup. Lacking in shoulder layback, is compensating by lifting the front legs but because she isn't overangulated in rear the action fortunately isn't as dramatic as some others. I can't tell exactly but from the 2/3rds view of her moving she looks like she may be somewhat narrow in front and rear. She looks a little "soft" and low on muscle but hopefully she will fill out.

She is quite refreshing to see and I hope you'll post more of her as she grows!
---
---
Contact information
Disclaimer
Privacy Statement
Copyright Information
Terms of Service
Cookie policy
↑ Back to top