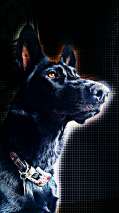 by TawnBawn on 25 July 2019 - 16:07
So I have a wonderful AKC GSD dog, everything i ever wanted. Her name is Luna Vom Blumen Der Rose. I got a letter in the mail a couple months ago saying that:
A parentage verification analysis of American Kennel Club ("AKC®") DNA Certifications was conducted on a dog in your dog's pedigree/lineage. The DNA results indicate that this dog could not be the offspring of the parents to which it is registered. Please be advised that this does not imply incorrect parentage or incorrect identity of your dog(s) or any offspring that your dog may have sired and/or whelped.
Because your dog is a direct descendent of a dog in the litter with incorrect parentage, the registration of your dog and its offspring have been placed on referral. This means that American Kennel Club services will not be provided if the dogs in this litter are bred, sold, or transferred, and awards will not be recorded if these dogs participate in any American Kennel Club sanctioned or licensed events. We regret the necessity of taking this action.
The breeder of the litter with incorrect parentage has been notified and we have requested additional DNA samples to determine correct parentage. If correct parentage cannot be established, the AKC® will evaluate the excluded litter to determine if it meets the conditional registration program requirements (http://www.akc.org/condreg). Because your dog's direct parentage is not in question, there is no action for you to take at this time. All recorded owners will receive written notification at the conclusion of this inquiry.
The Dog's Name is Sargeant Timber Tree who was owned by Peggy Sue Walker and she sold offspring of this dog named Ranger Von Der Gauss to someone to be used as a stud; she got him DNA tested as he had a couple litters now and it's required by AKC to have a stud dogs DNA on file that produces multiple litters and apparently Ranger Von Der Gauss's DNA doesn't match Sargeant Timber Trees!!!
AKC told me that they were in contact with this Peggy Sue Walker and said that they had another possible sire on file that the DNA matched but needed to confirm it with Peggy and needed DNA from the Dam of that litter also. Well peggy said she didn't even know if that dog was alive at that time.....SERIOUSLY??? How do you not know what stud bred your bitch????
And why can't the AKC use the Stud that matched the DNA on the pedigree instead?? Like isn't that how DNA works???Correct me if I'm wrong but all DNA is different correct?
Oh and the person that owns Ranger tried so many times to get ahold of Peggy and left messages but Peggy won't return her phone calls. I myself left a polite message to get back to me to let me know what was going on and not a single thing back. Found her on facebook and messaged her on there...nope nothing...Seriously own up to your mistakes and try to make them right...The person that owns ranger said she had to refund the owners of rangers offspring to keep them happy bc they were livid about this whole situation. At least she is trying to do the right thing.
So now my Luna as well as many other dogs have been dropped to Conditional registration. Not that it bothers me much as I can still breed her and compete in dock diving and agility to earn titles. Luckily I got her DNA tested and the Sire to her first litter DNA tested which is now 4 weeks old. Also bc my breeder DID NOT DNA test her dogs Meika Vom Grewe Haus or Athena Blumen Der Rose, my puppies now are going to be conditional registration and its a pain in the arse to explain that to people that are interested in them. AKC requires a 3 generation of DNA verified dogs in order for it to revert back to regular registration. Hopefully she steps up and becomes the responsilbe breeder she claims to be and gets her two female DNA tested as well.
UGGGGGG So frustrated...okay rant over.....after searching through posts on here I see that This Peggy Sue Walker is famous for being a bad back yard breeder and a scammer to many people....
http://www.pedigreedatabase.com/german_shepherd_dog/dog.html?id=2717474-luna-vom-blumen-der-rose
http://www.pedigreedatabase.com/german_shepherd_dog/community.search?f=&s=peggy+sue+walker

by Koots on 26 July 2019 - 14:07
So, even though your dog's lineage is in question, you figure it's still OK to breed her with that unkown? How does that make you any different than the infamous BYB Peggy Sue Walker that you are ranting about? Just had to ask.
by ValK on 26 July 2019 - 14:07
Koots
of course it's personal but a lack of proper paperwork won't be obstacle for me if dog is obvious german shepherd
and truly outstanding in all "a must" aspects of the breed.
after all the dogs, who was in roots of breed also wasn't certified by paperproof of their purity.

by Koots on 27 July 2019 - 18:07
Valk - my point was that the OP is upset about her dealings with Peggy, the lack of certainty about her dog's lineage and the ramifications of AKC registration. Yet, the OP seems to be willing to pass on this problem by breeding the dog even though the potential puppy buyers may have issues with AKC registration. Knowing this, a responsible breeder would not breed until these issues were resolved and there would be no problems with registration. Kinda like the responsible breeder that she wishes Peggy Walker would be.
by ValK on 28 July 2019 - 02:07
Koots
look, sneakiness is a sneakiness. i'm not advocating deceive breeders. but i think you're too harsh to OP.
being deceived by breeder, she doesn't hide that. contrary, she stated this issue by editing dog's profile, accessible for public.
i don't know that dog and her qualities but seems like the owner is responsible person. dog has hip and health examination.
have no idea what is that AKC NADD DS but quite obvious that to reach that, dog need to complete some type of training and has
predisposition to do this.
what a problem OP will create for a breed by mating her to decent dog?
particularly if OP is honest to potential buyers about pups registration issue.
much better to breed the dogs, who die from consuming raw food and all of their activities limited for walk around the block and couch surfing
but who has bulletproof pedigree which can be traced back into 19 century?

by Koots on 28 July 2019 - 05:07

by Hundmutter on 28 July 2019 - 06:07
I think the crucial point here is: IF when a dog is bred, the owner/breeder is honest with puppy buyers about lack of registration (or anything else that might detract, for that matter). Unfortunately there have been way too many cases of people passing on their misfortunes to others; and it is an onward chain, if you sell one 'pedigree' puppy as purebred but it has no papers, you are reliant on future people to keep being truthful and not be fussed about having paperless dogs. And not to eventually try to circumvent that problem. Puppy buyers will themselves become breeders, of a proportion of the get - even if by total accident rather than intent. Could leak on for generations.

by Ryanhaus on 06 September 2019 - 21:09
TawnBawn,
I noticed you had OFA certified Luna's hips, but didn't see any certification for elbows.
Elbows are becoming a bigger problem than hips in the breed...
That's what has me frustrated.
Luna is a beautiful looking Shepherd, we just had to part with our beautiful girl Yeti von Ryanhaus cause she had grade 1 elbow dysplasia, probably cause I thought it wasn't a problem to breed grade 1's back when I was just starting to x ray and certify our breeding stock,....
Yeti lives with a very nice couple, and has been spayed.
---
---
Contact information
Disclaimer
Privacy Statement
Copyright Information
Terms of Service
Cookie policy
↑ Back to top