by adlerhaus on 09 March 2019 - 23:03
A couple of years ago, my husband and I bought two beautiful GSD, both german imports, for pet and possible breeding purposes. We have room and have always had GSDs, though usually one at a time. Anyway, long story very short, my husband passed away suddenly about a year ago. I decided I would try to have one litter of puppies with vet assistance since my male, bless him, was having trouble tying with Jessy, my female. Got prepared for that, and then about 6 months ago, my male suddenly died (vet thought it was a spleen tumor). Suffice it to say, last year sucked.

Fast forward a few months and I discovered that my male's sire, Schumann von Tronje, lives very close to me and I contacted his owner about AI. Last Wednesday, Jessy had surgical insemination and now I wait.

Now that I've gone and done it, I am wondering if I am crazy to do this by myself. I am reading and alternating between excitement and horror. Any suggestions for reading materials and other advise would be much appreciated.

Barb


by gsd39mr on 10 March 2019 - 22:03
If she turns out to be pregnant you will need to educate yourself on whelping puppies. It would be helpful if you have an experienced breeder to mentor you. Don't want to dampen your excitement but don't get too concerned until you know she is pregnant. Once you know, come back here and ask for whelping advice.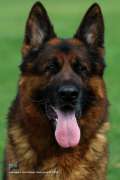 by jdiogoc on 11 March 2019 - 00:03
Hi Barb,

Last year sucked :(.

Congratulations on having your first litter from a super dog like Schumann von Tronje! Try to read a lot of information online about possible complications, watch some videos and talk to vets and breeders about what to look out for. You should be fine - don't get too nervous when the time comes as Jessy will need a calm spirit next to her. Just have your vets number close when the time comes.

J

by adlerhaus on 11 March 2019 - 22:03
Thanks for the responses. I do have a mentor who is giving me some advise as well as a great vet. And I will wait until I am sure she is actually pregnant before I get too excited.

Luckily I love to read and learn. There are some great tips in old threads here that I have found! I HAVE done this before, but it was so long ago and I had someone to share the experience with. Just another of life's adventures to experience!
---
---
Contact information
Disclaimer
Privacy Statement
Copyright Information
Terms of Service
Cookie policy
↑ Back to top