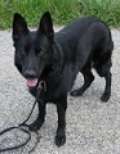 by Lunastar on 27 February 2019 - 20:02
There is a color GSD breeder (And also Boxers) who is posting photos of their dogs on their Facebook page and most of the dogs look starved. There are also 2 photos of a GSD tied out on a short silver tie-out cable with a dog house. And isn't is illegal to have dogs chained/tied outside all the time now? The breeder is in the US (North Carolina) as am I, and I know it's illegal in my state (Kentucky) to leave a dog on a tie-out or outside for longer than 4 or 5 hours. I heard other states had the same or more strict dog laws regarding outside time for dogs. I have no clue how to go about reporting possible animal neglect on a breeder in another state does anyone else here know?
by astrovan2487 on 27 February 2019 - 23:02
I know that in my state (Maryland) for reporting any animal related issues they have a form you can fill out online or call in. Look up North Carolina's Animal Control website. Does not matter if you are out of state or not but it is not anonymous in my state. You may also be able to find out if North Carolina has a law against leaving a dog tied unattended from the website. Was it a breeder that has listings on this site?
I noticed a color GSD breeder that has postings on here recently and when I looked at more pictures of their dogs they all looked very unhealthy and many had facial scars and torn ears. Might be the same breeder you are concerned about

by Sunsilver on 28 February 2019 - 01:02
Melba mentioned a color breeder in N.C. that is well know for having a poorly run kennel. I'll see if I can get her to comment.

by GSDHeritage on 28 February 2019 - 03:02
Found this on complaintsboard.com made on a color GSD BYB in North Carolina.

Contact the Compliance dept:
AKC Investigations and Inspections
8051 Arco Corporate Drive, Suite 100
Raleigh, NC 27617-3390
Phone: (919) 816-3629
Fax: (919) 816-4246
---
---
Contact information
Disclaimer
Privacy Statement
Copyright Information
Terms of Service
Cookie policy
↑ Back to top