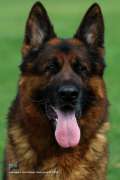 by jdiogoc on 27 February 2019 - 01:02
I wish you the best of luck. I've dropped a like on your facebook page and will follow you from there :). Good looking squad, congratulations!

by charlie319 on 29 March 2019 - 01:03
She has arrived. Very settled and self assured female. Very obedient and easy to manage. Got her introduced to the other dogs, which has been a chore as in the last week all 3 young females went into heat... Not all at the same time, but at present I have one left that is in heat and must be managed as I have two males. Looking forward to whelphing this litter.

by DuganVomEichenluft on 29 March 2019 - 14:03
NEED PHOTOS!!! Lol

by charlie319 on 29 March 2019 - 20:03

by Hundmutter on 30 March 2019 - 13:03
Pretty girl ! Best of luck with her.
by Gustav on 31 March 2019 - 12:03
I think you are moving in right direction...fwiw.

by DuganVomEichenluft on 03 April 2019 - 13:04
Wow, she's gorgeous. You'll need to create a photo gallery of her. She's beautiful!
by Vibgyor on 04 April 2019 - 03:04
You are going to have excellent quality puppies. Optimum symmetric line breeding.......

by charlie319 on 11 April 2019 - 02:04
Thank you all for your support. At this stage its all hope and anxiety.
---
---
Contact information
Disclaimer
Privacy Statement
Copyright Information
Terms of Service
Cookie policy
↑ Back to top