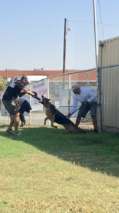 by Coronagsd89 on 31 January 2019 - 22:01
I would like to raw feed but it's not a realistic option.. Wife and I both work and we have a 5 month old baby.. so the time that goes into raw diet really isn't an option.. maybe I will add some raw ingredients from time to time.. so I'm just looking for some options to choose from and I'm leaning toward VICTOR although I'm not sure which formula yet

by Jessejones on 31 January 2019 - 22:01
Totally understandable Corona.

And sorry, I did not mean to hijack your question about looking for a specific kibble.

But, oh boy...you and your wife already have your hands full! I hope you have time for a GSD pup. It is a lot of work and they can be real energy drainers. I'm always glad when mine are out of the puppy stage.

Some think that adding raw food to kibble will unbalance the kibble....but personally, IMO, I would give him as much real food as I could. As I think that some raw is better than none.

I would not mix it with the kibble though, as it is a different digestive process. The kibble stays in the gut longer than raw, which goes through very fast. So you don't want the raw to start fermenting in the gut, if mixed with kibble. That fermentation might cause issues. I would feed the real food, raw or cooked, or appropriate table scraps, a few hours later or earlier than the kibble meal.

Lots of ideas on this, so everyone has to do what they think is best. Good luck with your new pup. Post a pic when you get him.

by GSCat on 06 February 2019 - 09:02
I've been happy with Orijen Large Breed Puppy for my GSD.

My breeder recommends raw if possible, or for kibble, Fromm Gold Large Breed Puppy.

Not all puppies should eat the same thing. A lot depends on the breed of the puppy.

by ali44 on 06 February 2019 - 13:02
Kibble is MacDonalds for dogs (or any other fast food or semi prepared meals). I can have a few meals per year at the Mac, without any damage to my health, but doing that on a daily base is another story. Same for dogs with kibbles.
I totally agree with everything that Jessejones said in his/her posts except for one detail: it is not only the calcium phosphorus ratio that is important but also their chemical formulation. Calcium and phosphorus are used for bone formation in growing mamifers only if they are from dicalcium phosphate (or at least a combination of mono, di and tricalcium phosphate), the form in which they bind together in osoeus tissue. What many kibble manufacturers do is putting in their food calcium in form of calcium carbonate (very cheap and good for chickens) or calcium panthetonate (also cheap) and phosphorous from god knows what source and then they give you that optimal ratio of 1.3/1.
They don't even bother with grinding some bones into their kibbles so that they have a good source of calcium and phosphorus because maybe that would be too expensive and all they target is profit.
by Nans gsd on 06 February 2019 - 23:02
I just tried Merrick Outback "HERO" and it was way too rich so I would avoid that. I have been using their Salmon formula (with the bear on the cover, orange bag) and that has worked beautifully; also used their Ocean fish but like the Salmon formula better as its grain free. If you want more calories and cut some of the protein you can add oatmeal (or not). The aussie did not eat this well and he is on Petcurean -gather the fish formula.

Was looking for an alternative with Merrick to change it up on occasion but did not work for my GSD at all; also try Chewy.com they have hundreds of formulas with all the ingredients/descriptions etc on line and they deliver to your front door.

Good luck. You about need a masters degree these days to find a dog food. Ridiculous.



also had good luck with NOW and GO from Petcurean. NOT good luck with Orijen & Acana. Nan
You must be logged in to reply to posts
---
---
---
---
Contact information
Disclaimer
Privacy Statement
Copyright Information
Terms of Service
Cookie policy
↑ Back to top