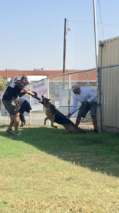 by Coronagsd89 on 29 January 2019 - 17:01
I'm thinking about getting a pup but want to get some info and see if 3-3 line breeding is ok??

Thank you in advance
by duke1965 on 29 January 2019 - 17:01
look at the actual parents first, 3-3 means nothing

by Koots on 30 January 2019 - 00:01
If you mean is it OK by the SV or any other breeder's organization, then yes, a 3-3 breeding is allowed.

From the SV site: "Since 1/1/2015, according to the breeding rules, an inbreeding that is closer than 3-3 is not permitted …"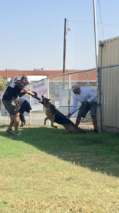 by Coronagsd89 on 30 January 2019 - 01:01
Yes that's exactly what I meant I just wasn't sure how to word it.. thank you so much for the response!!
by dancingnib on 31 January 2019 - 22:01
I avoid inbreeding since that practice brings faulty genes forth to the litter. Inbreeding to compensate for breeding partners that are not prepotent producers is a definite losing proposition. My practice of combining producers with open or near-open pedigrees invigorates the blood of the progeny. The Germans have many times changed their permitted inbreedings. They are not necessarily the best arbiters of breedings since most are driven by commerce.

by Koots on 01 February 2019 - 02:02
On the other hand, outcrossing all the time is just like a mish-mash of genetic contribution, with most chance of large variance within a litter. Line-breeding is done to enhance and build upon the genetic contributions that are wanted from a certain parent. With line-breeding, the breeder should be trying to 'double-up' on the good genetic potential of both the sire and the dam. Of course, along with the good genetics, the chance of the bad can also be expressed so it's important for the breeder to be very familiar with the genetics of the sire/dam and pair them up to compensate/complement one another.

Both methods and ideologies have pros and cons, but IMO, the most important consideration is the breeder's knowledge of the dogs within both sire and dam's pedigrees, and to have a plan for their breeding program.
by duke1965 on 02 February 2019 - 06:02
had this discussion this week with good breeder who wants to outcross allways, problem is that he is running out of options to outcross, as there is only so much different blood, the result is that you will end up doubling up names accidental as that is only thing left
to be able to outcross you need unrelated blood
to keep unrelated blood available you need to linebreed or inbreed
simple as that

by Hundmutter on 02 February 2019 - 08:02
Absolutely right, Koots and Duke. However, within the practice of sticking with line-breeding, you do not have to breed ever-so-closely, do you ? So 3:3 is still about the nearest you'd normally want to get in a pedigree ? Unless there were particular circumstances - when they know the dogs and their ancestry very well - where a breeder would risk something closer. In which case that breeder ought to be able to explain to the puppy-buyer why they did it ?
by duke1965 on 02 February 2019 - 17:02
there is no secret formula for breeding, nor for line/in breeding, every single combination stands on itself and should be tought out individually,halfbrother/halfsister doesnot have to be a problem, I have had real good results with combining two dogs from which the parents are littermates, which, on paper would result in a 3-3 but is actually closer

by Koots on 02 February 2019 - 17:02
I had a dog many years ago that was 2-3 on Harro Lechrainstadt. He was a great dog, balanced, great grips and character. He went on to become a serving police K9. This is the pedigree to his litter-mate:
http://www.pedigreedatabase.com/german_shepherd_dog/dog.html?id=422035-immo-vom-oberwager
When I was looking for my present dog, I wanted to explore a different type of line than my previous GSD's, which were all WGWL. I chose this breeding, a 3-2, but this time on a strong female - Puci Jipo-me.
http://www.pedigreedatabase.com/german_shepherd_dog/dog.html?id=2054751-thor-vom-ron
As you can see, I am not opposed to closer line-breeding, but with the qualification that the breeder of such combinations has the knowledge and experience to pull off this type of breeding. That is where the buyer needs to assess the breeder's knowledge through questions and research.
---
---
Contact information
Disclaimer
Privacy Statement
Copyright Information
Terms of Service
Cookie policy
↑ Back to top