by gsd forever on 10 November 2018 - 18:11
by joanro on 10 November 2018 - 19:11
Yes, they eat them and then the pellet swwells up in their gut...killer!

I know someone who tried it without thinking it through...not a good outcome for the puppies.
by gsd forever on 10 November 2018 - 19:11
so many breeders use them i trust what you say because that is why i fear them back to newspaper and or pine shavings!!

by GSCat on 13 November 2018 - 08:11
As toxic as ink/modern recycled newsprint, I don't even want to use newspapers :-(

Straw?

Or why not just clean as soon as there is a mess so there's less mess overall?
by JillSue on 13 November 2018 - 16:11
I have tried several things over the years. Have found pine sawdust to be the best. Never use cedar shavings. These guys are into their second day of having the pine sawdust.......within a dew days I will keep making the area covered with dust smaller and soon they will be going only in the box. I have a crate...with bedding....in the corner.....that they sleep in. That way they have something "soft" to sleep on and they are much less likely to want to sleep on the dust.
by JillSue on 13 November 2018 - 16:11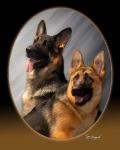 by Victory on 13 November 2018 - 17:11
Yes , recently litter box trained a litter of 10 puppies (desert area , summers too hot for outside)
I used a "rabbit pan" which was about 24 x 24 inches, and pine pellets from Tractor Supply.
No preservatives, no dyes, etc. The pellets do not swell , they break down into a fine sawdust.

In about 2 days they were all using it.
Never had a problem even if they do eat a bit of it. Most don't like it.
I use it in the wet spots in horse stalls too.
My only issue, is inside use, because it can be dusty, and I have asthma.
You must be logged in to reply to posts
---
---
---
---
Contact information
Disclaimer
Privacy Statement
Copyright Information
Terms of Service
Cookie policy
↑ Back to top