by Sheryl B on 23 July 2018 - 15:07
I have a new litter out of my Cronos del Seprio daughter, they are 13 days old today. My question is: At what age do you give the 5 in 1 vaccine. I'd like to give at 4 weeks if that's safe, so they can get second round before leaving to their new homes.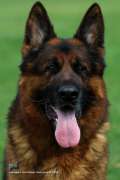 by jdiogoc on 23 July 2018 - 15:07
I don't know if it varies by country, but around here we give it at 8 weeks (and unfortunately can't give it sooner). You have the "puppy" vaccine which you can give at 6 weeks. Before that, the only thing we do is deworm them every 2 weeks.
Regards, J

by Sheryl B on 23 July 2018 - 15:07
OH J, Where do you live? I'm In PA. and I'm so afraid of Parvo, I'm always afraid someone will bring it in on their shoes.

by Western Rider on 23 July 2018 - 16:07
Check out Neo Par. Can give at 5 weeks then at 7-8 weeks I use Duramune 5 not a 5-1.

by LOVE THY SHEPHERD on 23 July 2018 - 17:07

6 wks old is the youngest, mine all get at least one shot
before leaving. Parvo must be included in the shot.

My regular routine for shots is below--

7 wks. old 5 way shot

10 wks old 5 way shot

13 wks. old 7 way, including lepto

16 wks. old 7 way shot

5-6 months of age Rabies shot
Yearly shot after this

by Hundmutter on 23 July 2018 - 17:07
To avoid Parvovirus (& other nasties) being walked in on people's shoes: keep a shallow tray of a suitable disinfectant outside each door, and insist people step through it before entering the house. Not 100% effective, because your yard can still get contaminated, but it does cut your risks in any outbreak, and is easy to keep up.
by ZweiGSD on 23 July 2018 - 23:07
by Tempelhoeve on 25 July 2018 - 10:07
4 weeks to me is too young----we do at 6 weeks here

by delta von Avalik on 25 July 2018 - 11:07
I second Western Rider. If you're scared of the pups catching Parvo, use Neo Par at 5 weeks of age. It contains just the parvo virus and is most effective. 5-1 is just too much at once for their age right now.

by kitkat3478 on 25 July 2018 - 16:07
i too agree with Western Rider, Neo Par at 5 weeks. the other vaccines are not needed yet, and if you know and trust the buyer, i would give Neo Par and Neo Vac 2 at 8 weeks when they go. Those what I fear most and with all the info available these days on vaccines, Less is best.
You must be logged in to reply to posts
---
---
---
---
Contact information
Disclaimer
Privacy Statement
Copyright Information
Terms of Service
Cookie policy
↑ Back to top