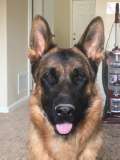 by jmcnees1 on 17 July 2018 - 18:07
How is it judges determine what goes into the recommendation portion of the breed survey? I ask cause I see dogs with average IPO scores but have recommendations on improving character.

by susie on 17 July 2018 - 20:07
Low points are not necessarily equal to working ability / temperament / drive / character.

In case a judge really likes the dog in front of him temperament wise ( self confidence, grip, speed, expression = the whole dog) points are not important.

Points don't pass on, temperament in the best case does.

A high performance on local level may be the result of a skilled handler, a low performance on local level may be the result of a not that good handler...

As soon as we talk about regional or even national level you need a good dog AND a good handler...😀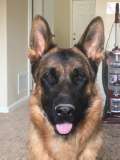 by jmcnees1 on 17 July 2018 - 21:07
So its just how the dog acts while in front of the judge and impression given.

by susie on 17 July 2018 - 21:07
Mostly, but not always and only.
Judges know a lot of dogs out of their surrounding, may have seen them before, maybe even offspring.
It's about the sum of aĺl of this.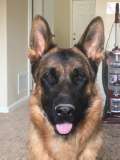 by jmcnees1 on 17 July 2018 - 23:07
So how much weight would the judge carry in recommendations if its one of their breedings?


by susie on 19 July 2018 - 19:07
Depends on the judge.
Some judges never give any recommendations at all, and some love to do so.
In case of breeding decisions nobody really cares the interested breeders tend to take a look by themselves.

There are douzends of VA dogs without any recommendations ( first breed survey ) out there...

It's not important.
by Rik on 20 July 2018 - 00:07
honestly, one should see the dogs and determine in person if they meet their goals and expectations.

I've replied to a couple of your posts jm, but this is the last one. I think you just want to argue with the system.

1. No, I wouldn't take any SV judge evaluation (on Character) without seeing the dog/dogs, either in person or at least on video.

2. it is what it is on S/L. take from it what it is or quit trying to subtly default it and just say what you want to say.

jmo,
Rik

by Sunsilver on 20 July 2018 - 13:07
A friend had her dog breed surveyed recently. The dog chose to act up while being presented (broke away from the handler, and got the zoomies.) That caused her to be downgraded from SG to G. She still got a 'recommended for breeding' (KKl) designation, and the owner was told to try again with having the examination redone. Her conformation is nice enough that she could possibly even get a V rating, though she is a working line bitch.
You must be logged in to reply to posts
---
---
---
---
Contact information
Disclaimer
Privacy Statement
Copyright Information
Terms of Service
Cookie policy
↑ Back to top