by Dab353 on 16 July 2018 - 22:07
Hi everyone,

I am a little new to the naming game when it comes to German Shepherd Kennels and of course, German Shepherd Dogs that are registered under that kennel name. Are the words VOM or VON registered with a kennel name or are those words used and placed at any time a puppy's name is being registered ex. Arya VON Lichtestein.

Hope this makes sense?! If not I will try to clarify any misunderstanding.

Thank you in advance.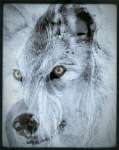 by Fantom76 on 16 July 2018 - 22:07
The vom and von, while part of the registered name, are not proprietary. Anyone can use them in their kennel name. They actually mean "from" and the difference is that one is used with feminine nouns and the other with male nouns as German words have a gender. So you might use google translate plus a German dictionary to translate your kennel name to German and see if you can determine its gender and then you will know whether or not to use von or vom . To American/Canadians it is not important and you will see it interchanged in many kennel names. But it is important to a German.
by Dab353 on 16 July 2018 - 22:07
Fantom76, thank you for your reply! For clarification purposes, when registering my puppies names can they be registered only as VON ______ if my kennel name was registered as VON__________, or can the addition of VON be placed at any time?

by Sunsilver on 17 July 2018 - 01:07
Adding a 'von' to the name your dog is already registered with is considered a name change. You would have to ask the permission of the kennel club for this. They may/may not allow it.
You must be logged in to reply to posts
---
---
---
---
Contact information
Disclaimer
Privacy Statement
Copyright Information
Terms of Service
Cookie policy
↑ Back to top