by NorthwindsGS on 15 June 2018 - 19:06
Can anyone explain how to look up a individual dogs SV hip and elbow ratings?
Received our dogs export pedigree and the place where the stamp for hip and elbow ratings go is blank so would like to look up and see what/if any ratings she has. We did not receive the origanl pedigree along with the export one.
Thank you
Pam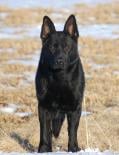 by Jenni78 on 17 June 2018 - 02:06
You can do it on SV docx if you have a membership. Who is your dog? I can look.
by NorthwindsGS on 17 June 2018 - 23:06


That would be wonderful, Thank you very much. We belong to the USCA but not the SV.
Her reg name is:
Maja Walepharm Land


by k9neiko on 18 July 2018 - 07:07
if she is sired by Madrid v Simpor it says normal in SV doxs for her and fast normal hips
by NorthwindsGS on 18 July 2018 - 17:07



Thank you for looking them up for me. I really appreciate it!

Pam

by k9neiko on 18 July 2018 - 17:07
you are welcome
You must be logged in to reply to posts
---
---
---
---
Contact information
Disclaimer
Privacy Statement
Copyright Information
Terms of Service
Cookie policy
↑ Back to top