by CHeath18 on 05 May 2018 - 03:05

by Western Rider on 05 May 2018 - 06:05
I have 4 right now German Showlines and have had them in the past
Edited to add. These were rated from OFA as excellent

by Hundmutter on 05 May 2018 - 07:05
Not all that 'rare'.
UK resident dogs, e.g. Astana Quartz. HD/ED a-normal (a1).
Latest batch of Survey results, dogs in UK, April issue GSD National Magazine:
Hausmuller Bella. Hips 6:4 (10) Elbows 0:0 Pass; Class 1
Hausmuller Blitzen. Hips 8:7 (15) Elbows 0:0 Pass; Class 1
Veneze Valerie. Hips 5:4 (9) Elbows 0:0 Pass; Class 1
Janefield Whalter. Hips 8:7 (15) Elbows 0:0 Pass; Class 1
Nanni Emsi Haus. Hips a normal Elbows normal Pass; Class 1
Antilli Ricki. Hips 2:2 (4) Elbows 0:0 Pass; Class 1
and the 'also-rans' (LOL):
Hundark Antonia. Hips 6:4 (10) Elbows 2:0 [Passed, Class 2]
Vomzoarhoff Henry. Hips 9:10 (19) Elbows 0:0 [Passed, Class 1]
That is just S/L animals, most Surveyed at the beginning of February this year. HD/ED results unknown for dogs not presented for Survey but submitted to KC/BVA scheme.
And dogs Fail their Survey, for a variety of reasons, but not related to HD/ED:
e.g. my own dog, now deceased, Devat Adunamoir. Hips 3:3 (total 6). Elbows not
X rayed (too long ago to be demanded!).
by CHeath18 on 05 May 2018 - 14:05
Thanks for responding, I'm looking at the Pedigree's and see normal and good and was just wondering.

by Hundmutter on 05 May 2018 - 19:05
You probably need to read up on what OFA thinks, in terms of the definition of results they give out "excellent"s for. That might explain why so many US dogs only get described as 'good' ?
"a-normal / a1" in German terms is 'good-to-excellent' in (usually imported) dogs, tested under German regs rather than those of the country they end up living in. If a dog has slightly less good hips, they were graded "fast normal" (or " near normal") - depending whether the " 'a' stamp"was granted by the SV or by GSDCA.
There are comparative tables here somewhere, showing how the different countries' schemes relate to each other. For example, that best German version equates in the UK to the hip ratings that dogs score with our KC/BVA scheme, when they are 'below the current breed mean' [mathematical average] - currently running at a lower figure than the 19 total hip score given the dog I singled out on my above list, even though he passed his Survey. And in the UK we do not use Excellent as a formal word to denote hip (or elbow) status.
('Excellent', for us, is a show grading, the equivalent of a 'V' rating !)

by sentinelharts on 07 May 2018 - 05:05
I recently read that OFA reports approximately 4% of GSDs evaluated get rated as "Excellent"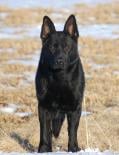 by Jenni78 on 07 May 2018 - 14:05
I've had several. If I raise the dog myself, they rate higher than if someone else raises them. Hence, I think the differences in conformation in normal hips has a lot to do with environment. Example, in a litter where all are x-rayed, 2 fair, 3 good, 2 excellent...the excellent were raised by me. Genetics did their part- the rest is environment and most pet homes are not as conducive to optimal joint conformation as someone whose home/property is set up for raising healthy large breed dogs (ie, substrate, exercise types, etc...mine are in water and sand and up and down hills, zero concrete, moving all day at their own pace).

Having said that already, I will say honestly don't care one bit whether a dog is rated fair or excellent. Non-dysplastic is non-dsyplastic. Everyone seems to miss the part where it says "No evidence of dysplasia was seen" and goes right to the "the overlall joint conformation is rated as ________." The differences between good, fair, excellent mean virtually squat for the dog. Again, non-dysplastic is non-dysplastica, aka healthy.

And, like HM says, ONLY OFA has a rating called "excellent" so of course there are not that many in the grand scheme of things since other countries have only normal or fast normal or number ratings per side.

by GK1 on 07 May 2018 - 20:05
I believe the OFA excellent rating is rare for GSD (4% as posted above) and generally valuable to a breeder of otherwise sound GSDs with appropriate drives and temperaments.

Granted my eyes are untrained so to speak, but after reviewing multiple OFA excellent rated hip x-rays on line, I could not discern a noticeable difference between those of my dog's OFA good rating. Maybe/maybe not better positioning would have made the difference.
You must be logged in to reply to posts
---
---
---
---
Contact information
Disclaimer
Privacy Statement
Copyright Information
Terms of Service
Cookie policy
↑ Back to top