by AnnLand on 26 April 2018 - 02:04
Just purchased a 10-week old GSD pup from a breeder on a Saturday who stated I could breed the pup and provided an AKC registration form without marking as "limited". Monday following (<48 hours after purchase) my vet identified: 1) cataract in one eye 2) cryptoorchid (1 testicle) 3) severe overbite (deciduous) and 4) abnormal musculo-skeletal condition (possible hip dysplasia or other weak back leg condition). I contacted the breeder requesting some cost relief in the full price paid (i.e., for full GSD registration). The breeder responded nothing was wrong with the pup, my vet was "cuckoo" and I can bring the pup back for a full refund. I sent the breeder the vet's assessment and AKC full registration certificate, and the breeder emailed me back stating she would consider discounting the pup if I wanted to keep it and asked what I would consider fair. This situation is beyond upsetting because I just lost my 14-year GSD last year, but now I take responsibility for my stupidity and commit to lovingly care for this sweet baby because I fear this breeder will just sell it to some other gullible person like me who will abandon it when they discover it's medical issues. I know, buyer beware and don't expect even an AKC Breeder of Merit to be trustworthy. Suggestions on how to estimate a fair and reasonable discount? Is there any other recourse available?

by DuganVomEichenluft on 26 April 2018 - 11:04
You've had the dog not even a week and these health conditions are obvious already? Very sad. Unfortunately, we can't save them all. And I understand you want to with this pup. There seems to be a lot going on here that's very odd. But to answer your question about a reasonable discount: what does the contract state? The breeder seems to be trying to work with you so if you're not far from him/her, maybe take the dog to his/her vet. with the assessment from your vet. That may make him/her feel better about refunding you. In that case, I'd ask for a full refund. Did you buy the pup with full intentions of breeding? Because it's hit or miss on whether a dog will be breed worthy, but if that's what you purchased it for and that's what the contract states, your case is in your favor. I'd try to work with the breeder 1st before going the legal route. It sounds as if this pup may be a health disaster and as long as you're willing to care for the dog forever, then you must commit to that now. Otherwise, take the pup back, get your $ back and find another breeder.

by Sunsilver on 26 April 2018 - 15:04
Ann, I know someone who had something similar happen to them with a well-know AKC breeder. The poor dog never had a healthy day in his life, and finally was euthanized at the age of 7 years, after costing her a fortune in vet bills. The breeder would not take any responsibility, and after a certain time period, stopped returning her phone calls/e-mails.
I'm sorry, if it were me, I would go for the full refund.

You don't deserve years of vet bills and heartbreak with a pup that may not be physically capable of doing what you want to do with it.

by Hundmutter on 26 April 2018 - 19:04
Not disagreeing with the direction of the thred; but would point out the puppy's monorchid status could: a) change if he is only 10 weeks, and b) ought to have been spotted by the OP on purchase collection.

by susie on 26 April 2018 - 19:04
You know what's the real problem?

According to AKC this dog "could be bred".

There are no restrictions in case of health, genetic defects, conformation - the dog in question just has to be out of AKC registered parents - AKC is a registry, no breed club.
So the breeder is right: this dog could be bred...

by Bundishep on 27 April 2018 - 00:04
Plenty of health issues come out of Germany and Europe just as they do in Akc if breeder offers full refund go for it from my experiance over the years most will not stand by their pups no matter a written warranty or not.
by AnnLand on 27 April 2018 - 00:04
Thank you for your suggestions and insight. Before I could make a fair offer on a discount to cover his xrays and additional cost of monorchid neuter, the breeder emailed me today and changed her mind. I have until this weekend (2 days) to return the pup for refund. And she now states she always knew he had one testicle, though no such vet report disclosing this condition, nor contract to prohibit breeding, was provided upon purchase. I believe I have no choice but to love and care for this pup for the rest of his life as I fear she will sell him as "perfect" and he could be abandoned later if/when health issues progress.

by Western Rider on 27 April 2018 - 02:04
I do hope you wait a couple of years before/if you let anyone talk you into any kind of surgery.
I have heard the scare talk of cancer but in 50 years with GSD's have never seen it occur. Yes I know it can just saying it is not as common, the cancer, as told.

by Baerenfangs Erbe on 27 April 2018 - 03:04
Return the Puppy!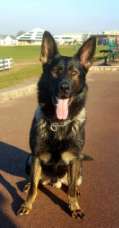 by RichCarne on 27 April 2018 - 09:04
AnnLand,

It is awesome that you want to keep the pup. It sounds like the pup has a great home!!!

Rich.
You must be logged in to reply to posts
---
---
---
---
Contact information
Disclaimer
Privacy Statement
Copyright Information
Terms of Service
Cookie policy
↑ Back to top