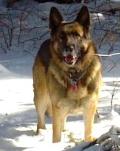 by Gypsys Mom on 15 February 2018 - 15:02
I saw a puppy I'm interested in. The breeder says she's a plush coat but her hair looks long to me, kind of fuzzy and sticking up..? I think that describes her. Can any one give me a way to tell long haired from plush coat on 8 week old puppies?
Thanks
by CamoGenetics on 15 February 2018 - 22:02
Gypsys Mom, do you also possibly have a picture to help other members out of this dog you might be interested in? Thanks.
by Mfundo on 15 February 2018 - 22:02
Not always easy to tell. Best guide: look at the parents. If they are both stock coat, then it could just be that the puppy is plush with all that fluff ... however two short coats can still produce a LC. Also, look at the pedigrees - that's if you know the bloodlines and how they produced

by Hundmutter on 15 February 2018 - 22:02
You could look inside the ears, long coat puppies usually have hairs inside the pinnae. People who have seen a lot of puppies can normally tell, there is often a 'look' about the heads of 'coats' that's hard to describe to others; but some 'plush' puppies can appear very hairy when still small, and 8 weeks is a little young to be absolutely sure.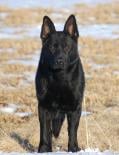 by Jenni78 on 16 February 2018 - 00:02
Genetically speaking, a coat is only short or long. "Plush," unfortunately, doesn't have a genetic, universal meaning. What do you want? Stock coat or long stock coat? Please post pedigree and photos. Please post a photo at 2 weeks to 3 weeks if the breeder sends you one. I can tell at 2 weeks, and my ability greatly diminishes after 3 weeks.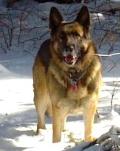 by Gypsys Mom on 16 February 2018 - 06:02
The pup I'm asking about is a current ad. I don't want to be rude to the breeder by discussing his pup. But, I'm currently shopping for a pup so I really want to know how to tell them apart. I looked at the lineage and I don't see a long coat. But that sneaky recombinant dna, never know when I've will show up. I don't know how to add a pic, but here's the link.
http://www.pedigreedatabase.com/german_shepherd_dog/classifieds.viewad?adid=264297
I agree hundmutter, coats often have a distinct head shape. Just doesn't fit what I think of as a GSD.
I've had both stock and plush coats. A plush coat is the luxury version of a stock coat. :-) Like a great car, but add leather interior. My Gypsy is plush coat and his coat feels amazing.

by Hundmutter on 16 February 2018 - 10:02
Yeah, to Americans it mostly is, G's Mom. Go anywhere in Europe and talk about 'plush' coats, they don't know what you are talking about. Jenni is right. And 'what you think of' as a GSD ought really to be one that fits the Standard. The Standard allows for Long Stock Coats (langstockhaar). What it does not allow for is the over-lengthy open coat (which would be fairly obvious in most puppies, although it varies). I wasn't talking about 'how to tell them apart in the nest', because you mentioned 8 weeks in your OP.
But, if you can get a 2 or 3 week pic from the breeder, it would surely be interesting to make a
comparison later ! (Waddya mean, you don't want to be rude to the breeder by discussing their pup ?
Outrageous ! You need to have all sorts of discussions about the pup if you might want to pay good money for it. With the breeder, with anyone else you like. The breeder has the ad. 'out here', yes ?)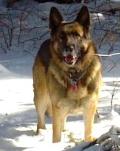 by Gypsys Mom on 16 February 2018 - 14:02
Yes, hundmutter, the breeder has the ad on here. I've never asked a question on a forum, so was uncertain of the 'etiquette' on forums.
I really don't know what I was thinking, being on here.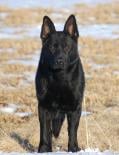 by Jenni78 on 16 February 2018 - 14:02
Pup *looks* coated to me. HOWEVER, I cannot guarantee my accuracy at this age when I don't know what is typical for the lineage. My own pups, sure, but not someone else's. I can say with 99% accuracy if I see good pics of 2-3 weeks.

by Hundmutter on 16 February 2018 - 17:02
Hey Gypsy's Mom, it isn't about you using the forum - welcome to PDB ! It IS about if someone uses the PDB to sell puppies, they should be expecting sensible questions about what they are advertising from their potential customers.
If any of them do not like that, they can advertise elsewhere.

If the potential customer wants to fact-check about ANY aspect of the breeding, they (you) are not just entitled to ask around of others on the forum, it is positively encouraged that new people use the forum to do some homework on whether the breeder is known, and if so for good or ill. The sort of 'homework' all new puppy buyers really ought to do for their own 'due diligence' and to try to prevent scamming, or being 'sold a pup'. Bugger 'etiquette'; you are not bad-mouthing a breeder by asking questions about them / their stock.
You must be logged in to reply to posts
---
---
---
---
Contact information
Disclaimer
Privacy Statement
Copyright Information
Terms of Service
Cookie policy
↑ Back to top