by tedmarx38 on 19 December 2017 - 21:12
I've been told by a well-regarded breeder that dogs with Vegas and Zamp heritage will likely be a good choice for what we seek in our next puppy. Specifically, we're looking for a milder mannered GSD from German lines. If anyone has any tips on how I can use this site to identify breeders that may have puppies of that heritage, I will be very appreciative. We live near Pgh and will drive 500 miles for the right dog. Thanks.

by Western Rider on 19 December 2017 - 21:12
Yes they are good and also so many of the others. A good breeder should be able to help you and it does not have to be one of the top show kennel if they are not close or have a pet priced puppy.
by Klossbruhe on 20 December 2017 - 05:12
It is highly unlikely that you will find anything closer than a great grandchild of either Zamp of Vegas. The most important thing is the immediate parents, regardless of whether you find Zamp or Vegas a few generations back...

It is by no means settled that it is possible to breed for temperament. Many would argue it is, others that it is not. This is not only an argument that rages with regard to dogs but also in other animals including humans. Most would agree it is possible to breed for phenotype, however.

Your best bet is to personally examine a litter that is on the ground. There are tests which can be used to get a general idea of what you will get temperament wise. For example, the puppy which pushes the others around, that is super energetic, etc is unlikely to be a mild temperament dog. The puppy which is shy or somewhat afraid of noises also may not be a good choice. There was a book by the Monks of New Skyte which enumerated the tests which behavioralists have used. These tests however are only a guide not a guaranty. Furthermore there is the question of nature vs nurture. A poor environment, for example a hectic household, can easily ruin a dog.

Most experienced breeders will tell you the mother brings 60 per cent or more to the litter. I would be pretty concerned about the mother. What is she like. What was her mother like. If you are interested in health, find out, if you can, how long dogs in the pedigree lived. Zamp died at 8 not that old...

Good luck.
by tedmarx38 on 21 December 2017 - 18:12
Thanks for your continued input on our search. We're making progress and are now focusing on a male puppy from German show lines suitable to be raised as a pet. If anyone can reco breeders within 6 hrs of Pittsburgh that will be much appreciated. Thanks.
by tedmarx38 on 22 December 2017 - 18:12
HI many thanks for all your tips. We found through http://hausjuris.com/ a dog immediately avail.Jax Dei Precision is sire, Lieda Haus Juris is dam. Great grandma on both sides is Eliza von Kuckucksland. Any concerns about inbreeding given this? Also, any advice on this male puppy in light of this lineage will be warmly welcomed. Thanks!
by Menee on 22 December 2017 - 19:12
If you are looking for showline then rather than Vegas & Zamp look to Ober, Idol & Quenn

by marsiii on 22 December 2017 - 23:12
Somewhat related:
Why are so many Showline diehards so obsessed with Sieger Remo? There were better GSD sires before him. i remember reading: because of decreasing diversity of the genetic material among Showlines, Sieger Vegas rose up amongst the VA group having no linebreeding at all (on the 7generations) It means that excellence in him was not dependent on his ancestry.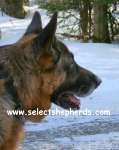 by Sue-Ann on 22 December 2017 - 23:12
Breeder/rescuer since 1984. Without question, in my experience, West German conformation lines make the best family pets of all German Shepherd lines I've encountered. Vegas and Zamp lines are not extraordinarily special for family loving temperament, West German conformation lines are. We have excellent, imported lines available and are located in NH. Lifetime support, lifetime return policy, and with the breed almost 35 years, means we'll be around to help with not just puppy stages, but also when your dog is facing geriatric issues. If you're wanting to chat further, we're happy to help.
by Klossbruhe on 22 December 2017 - 23:12
How important was your great grandmother to your genetic makeup or temperament? As I have said, look no further than the immediate parents and even then...better to see the litter.

Megan Judge is a reputable and good breeder. But if you are in Pittsburg or thereabouts, why bother when you have the equally reputable and good breeder Gayle Kirkwood at your doorstep...

by Koots on 23 December 2017 - 00:12
What is "West German conformation lines" if not German show lines? The OP mentioned Vegas, Zamp etc, all German show lines dogs.
You must be logged in to reply to posts
---
---
---
---
Contact information
Disclaimer
Privacy Statement
Copyright Information
Terms of Service
Cookie policy
↑ Back to top