by susie on 01 December 2017 - 17:12
We do hear about scammers from Serbia on a regular basis.

I wanted to know what´s "really" going on in Serbia, so I made a roadtrip to Serbia with my American "family" in October 2017.

3100 miles / 5000 km later I am able to talk about "Serbian GSD breeders" out of first hand knowledge...

This country is VERY poor, in the best case dogs are just dogs, in the worst case dogs are the possibility to make some extra money, no matter what.

After being there I can tell you Serbia is a beautiful country, its inhabitants are very helpful and friendly, BUT they need to survive, and they want to better their standard of life ( either for themselves, or, more importantly, for their children ).

We drove through the whole country, we visited the 2017 Serbian Siegershow, we met a lot of people, and we saw a lot of kennels all over the country during the days.

My resumme`?

- We met honest breeders, taking well care of their dogs
- We met breeders, trying to take care of their dogs, but to the same time trying to take care of themselves
- We met breeders who had no clue about GSDs, who only tried to make money to better their life

All of this more than understandable, I guess, as a Serbian, I´d do the same. They have to survive, and they want their offspring to have a better life. So, under the same circumstances I´d do the same.

That said, there are really good breeders with outstanding dogs, but to the same time there are breeders trying to better their personal lifestyle only. These breeders/trainers don´t care about DNA, health certs, or honest trials, they do have major problems than any dog rules.

What I want to say - those people are humans, and these humans do have a VERY difficult life, for a lot of them dogs are just the oppportunity to start a better life, no matter any SV rules...

My personal conclusion out of this road trip: I love Serbia, I love its people, but I would never buy a dog from Serbia, besides I know the breeder/seller in question personally.

That said everybody who wants to import dogs from Serbia should fly over there, take a look by him/herself and decide afterwards. Not that expensive, because the dogs are way cheaper than in West Europe...






by old shatterhand on 06 December 2017 - 00:12
Very good post ''susie''. I just want to ad that beside Serbia I would never buy dog from Bulgaria, Hungary, Romania, Croatia ,Macedonia and few more Eastern European Countries. All those Countries have the same problems like Serbia.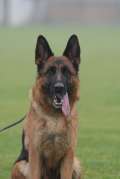 by kvisko on 06 December 2017 - 10:12
I had to write something about this.
I think it is uncorrect to write that way because- yes it's truth that thete are a lot of people on Serbia who wants to make money by dogs, but there is a lot of breeders who trully love GSD, who breed them by SV rules, who want to make better quality, who can competite with every dog from West Europe and who don't want to sell some dog no matter how much money domeone offer to him.
So, message to all customers- don't look price of dog, look pedigree and gemine line, because breeders who breed his line surely have good quality.
And I agree- best thing for every buyer- come here,nlook a dog and take him if he/she likes to you.
Regards
You must be logged in to reply to posts
---
---
---
---
Contact information
Disclaimer
Privacy Statement
Copyright Information
Terms of Service
Cookie policy
↑ Back to top