by Kaffirdog on 13 November 2017 - 19:11
I suppose it is possible for one parent to be a black sable. A friend of mine gets them and they appear to be black from birth, sometimes a little silvering on the breeches as they get older. The only way you can tell they are not solid blacks is when they produce sable pups.

by darylehret on 22 November 2017 - 13:11
I have introduced the concept of reverse mutation previously on this forum, followed by a lot of hard headed resistance from the so called experts.
The original wild type of the agouti gene is the sable pattern. The black pattern is a mutation, basically, a sable gene with the expression disabled.
reverse mutation, also called reversion, denotes any mutational process or mutation that restores the wild-type phenotype to cells already carrying a phenotype-altering forward mutation.

by cage on 22 November 2017 - 14:11
I really doubt that this dog can be from both solid black parents. At least the sire isn´t the one that is stated in my opinion. DNA tests are not compulsory for GSDs in Slovakia yet. HD, ED , show, trial and breedsurvey are mandatory but not DNA tests.
by GSDHeritage on 22 November 2017 - 15:11

by Hundmutter on 24 November 2017 - 05:11
If both Black parents are truly the parents of this bitch, my money is on the dam being really a 'black'/melanistic Sable, since she is the parent with the Sable sire ...

by Loyalville on 25 November 2017 - 03:11
There is a dominant black which can produce offspring that are NOT black so it IS possible. I'm going to breeding my recessive black bitch to a dominant black next year. Very excited to see what we get but my money is on getting some black & red pups in the litter!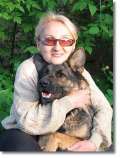 by lottas on 27 April 2018 - 11:04
http://lottasstyle.at.ua/locusAK_no.html
You must be logged in to reply to posts
---
---
---
---
Contact information
Disclaimer
Privacy Statement
Copyright Information
Terms of Service
Cookie policy
↑ Back to top