by chamootzka on 08 November 2017 - 20:11
I bought a dog in December 2016 from IVAN YOUKOV OF BULGARIA, I received the dog without problem. In September 1017, I paid for 2 females plus the plane BUT I only received one female without her export pedigree and the other female (Boa) I never received !! Everything is paid but it does not give me any news. He found many problems and defeats for almost 3 months. DO NOT BUY FROM THIS BREEDER, IT IS NOT RELIABLE. I am extremely disappointed and I will not leave it that way. I want to get my money back !!

J'ai acheté un chien en décembre 2016 de IVAN YOUKOV DE LA BULGARIE, j'ai reçu le chien sans problème. En septembre 1017, j'ai payé pour 2 femelles plus l'avion MAIS je n'ai reçu qu'une femelle sans son pedigree export et l'autre femelle ( Boa ) je ne l'ai jamais reçu !! Tout est payé mais il ne me redonne plus de nouvelles. Il a trouvé plein de problèmes et défaites depuis presque 3 mois. N'ACHETEZ PAS DE CET ÉLEVEUR, IL N'EST PAS FIABLE. Je suis extrêmement déçu et je ne laisserai pas ça comme ça. Je veux ravoir mon argent !!

by gepard96 on 08 November 2017 - 21:11
This deal in September are for both females - first is the better, the expensive female from the both (Germany breed, SV pink paper, IPO1 titled, HD/ED normal). This first female Im send to the buyer 10-15 days after the deal. The second female is one normal nice female - Serbia breed. Is no logigal to send the expensive female and deliberately for a fraud to keep the not so expensive, not the better female!

From September after finalized the deal to this moment (in this around 1.5-2 months, not 3) any week we give a news what happened with the second female.
First, this female did not have a valid rabies vaccine and we had to wait 30 days (because the female comes from Serbia - not in the EU) after the vaccine was made so that the state veterinarian can issue a state certificate for the travel.

October 30th (wednesday) I make the request for reservation to my shipping company: "Smart Express" ltd (Sofia, Bulgaria, tel.+359-2-9373378 mobile: +359-88-8223841 fax.+359-2-9459403 e-mail: evgeny@smart-express.com) and I want the female to fly the next week.
November 3th the manager of the shipping company send to us answer, that from November Lufthansa not make cargo for pets for Montreal.
In this mail, he tell that will search another variants for cargo. To this moment he is not send to us new answer. And I think so fast (3 working days) is not possible to ofert to us good variant for shipping. For all of this we are inform the buyer.

My last detailed description of what happened (and I gave to the buyer the contact details of the transport company for personal inspection) Im make in Facebook on Friday November 3.

My request from October 30 for reservation for the possible day in the next week 6 to 10 November (sorry is in Bulgarian):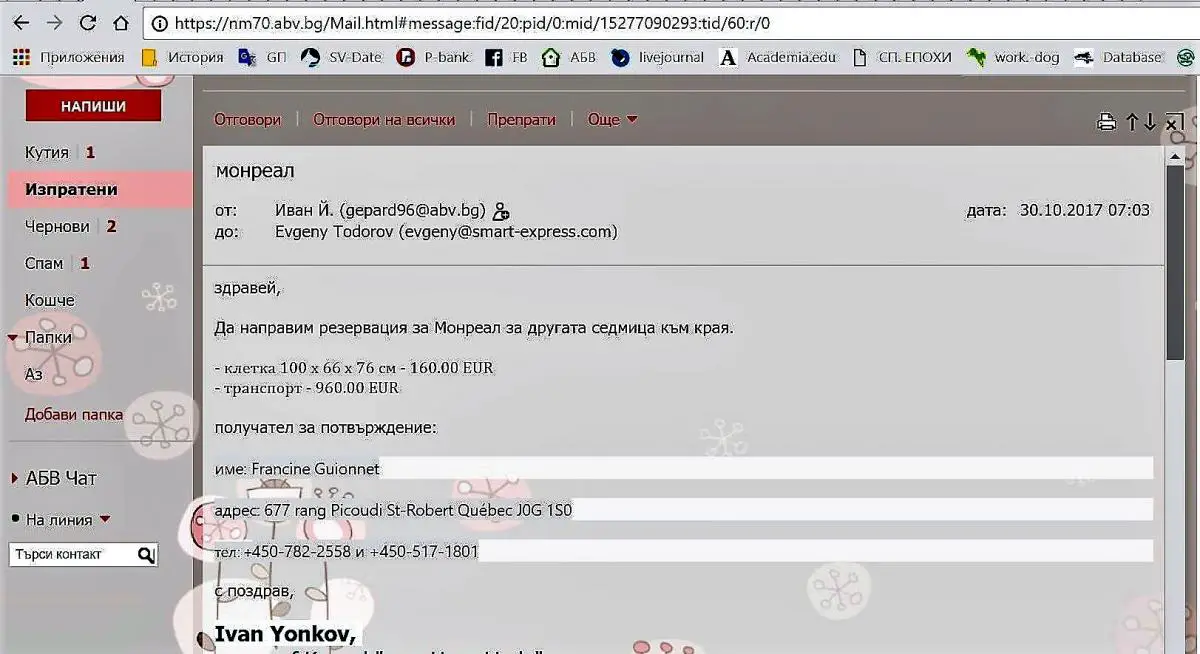 Here the transport company inform me that are stopped the cargo from Lufthansa for Montreal (November 3). The menager promise to search another variants for shipping :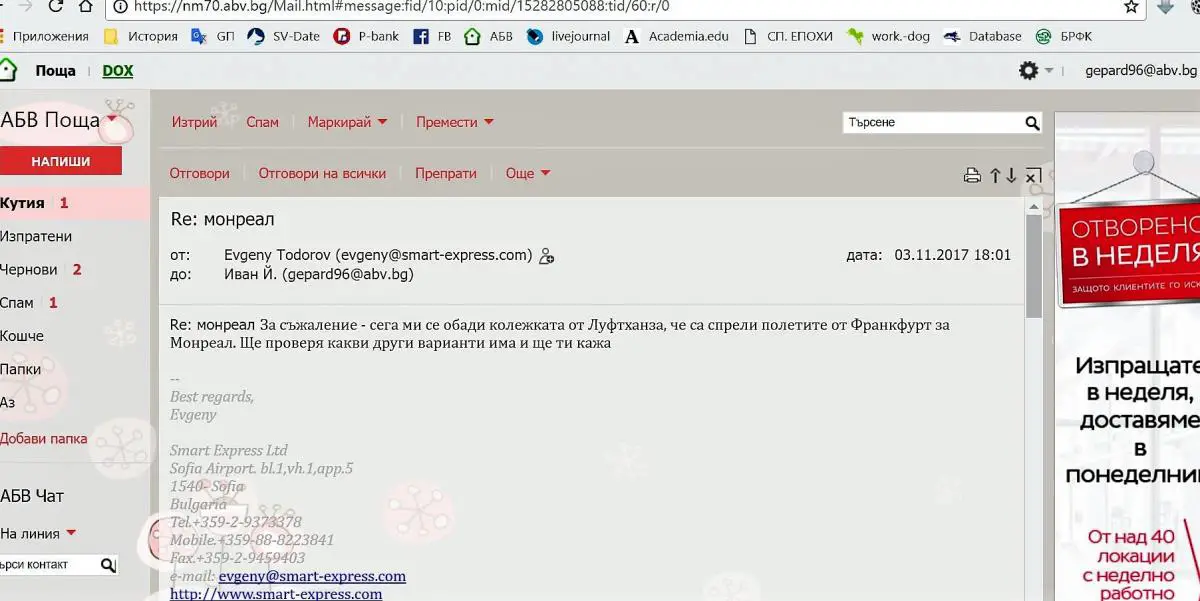 by gepard96 on 08 November 2017 - 21:11
I have already sent the first Export pedigree with the female (have technical mistake in the name of the owner), and then is became new (that's with mistake in the name of the dog) - that is in me.
Now in the Kennel club is already made the new, the right variant of the export pedigree, that to this moment I thinking to send with the second female.

the second variant (have mistake in the name of the dog: Samna v. Media instead Sama v. Media):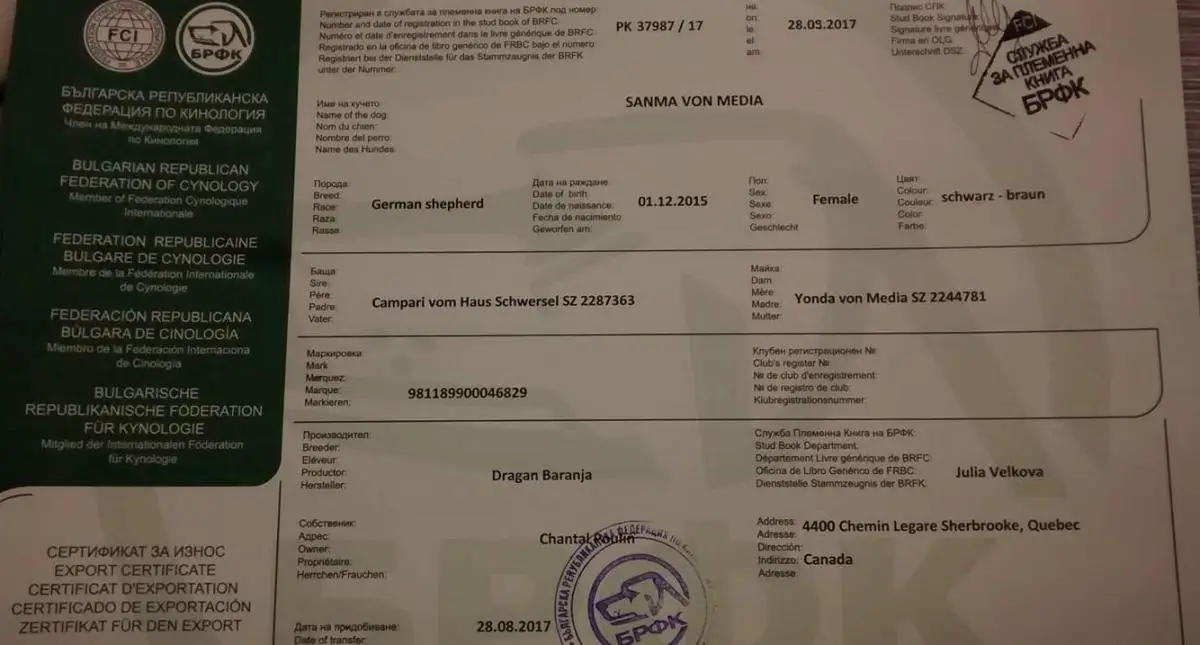 by gepard96 on 08 November 2017 - 22:11
Unfortunately, the transport of dogs is not always so fast.
From November Lufthansa gave higher prices and October was hard to find a place quickly (it took at least 7-10 days earlier to book).
Now there is no cargo from Frankfurt to Montreal since November, and that suddenly communicates it ....
And hop, we who have kennels and we have are promised sending the dogs, we are guilty for these problems.
For Denver I have 2 males (Tomi & Leo) to fly, and to this moment is not given to me the date (between November 20 and November 30), and one female for Kentucky (Vanila) - which also has to fly from November 20 to November 30. It is also very difficult for Kentucky to provide a flight because will have to synchronize the both fly and to make the transhipment (these are indirect flights). For this 2 males and the female the date of fly will be know one week befor the fly.
by chamootzka on 10 November 2017 - 04:11
Une entente a été prise entre moi et Ivan. D'ici 30 jours, il me remboursera et il m'envoie le pedigree de Sama par la poste.
Translated
An agreement was made between me and Ivan. Within 30 days, he will pay me back and send me Sama's pedigree by mail.
You must be logged in to reply to posts
---
---
---
---
Contact information
Disclaimer
Privacy Statement
Copyright Information
Terms of Service
Cookie policy
↑ Back to top