by casualfornow on 05 October 2017 - 19:10
What would you pay for VA1 Ober von Bad-Boll SCHH3's Son: Angelo Von Der Kanisfluh (see link)

http://www.pedigreedatabase.com/german_shepherd_dog/dog.html?id=2073689-angelo-von-der-kanisfluh

Someone nearby want to sell Angelo 6yr old Show line male with ACK, no hip or elbow information.

He looks healthy and full of energy seem to behave normally, no training on him, probably used

as a local breeding male.

Any opinions?

Thanks.

by gepard96 on 05 October 2017 - 21:10
In SV data base (online) have not info for Hip and Elbow resarch make in SV-Germany (or Austria, from where are coming this male).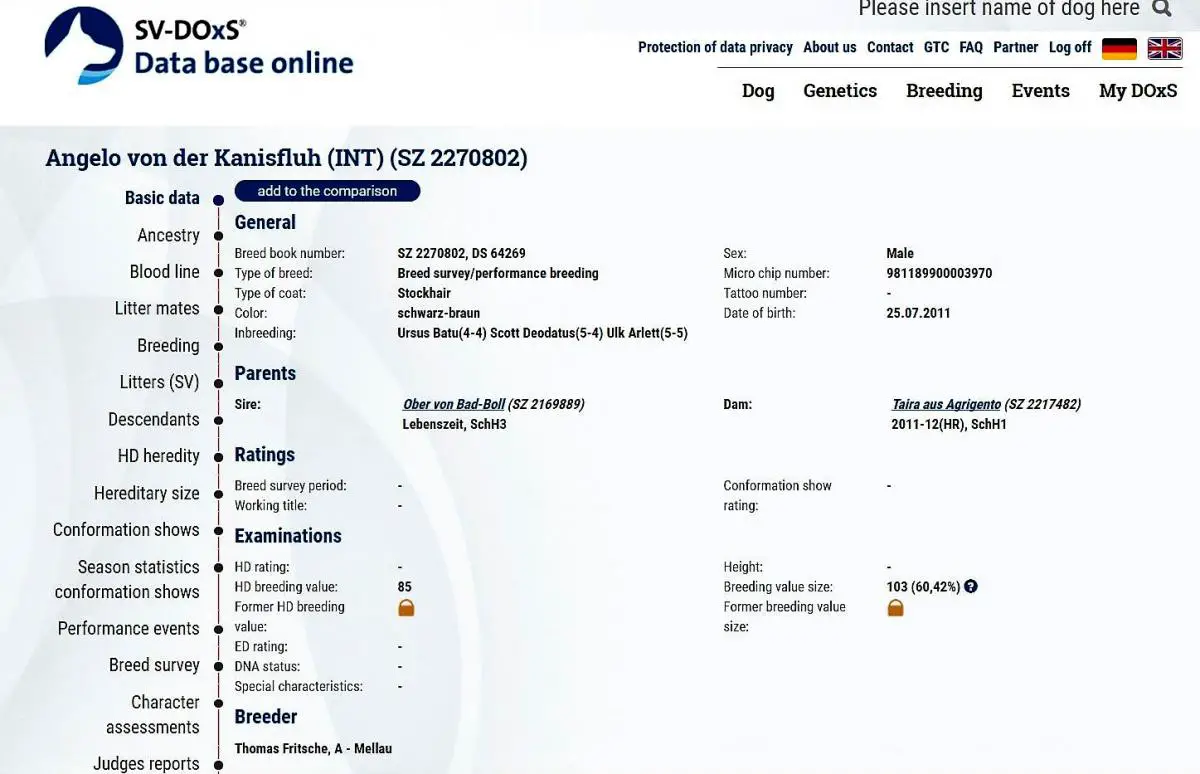 by casualfornow on 05 October 2017 - 23:10
Thank you sir!

by hexe on 06 October 2017 - 00:10
Really, it's hard to say. I'd need to at least see a picture of the dog, to see if his phenotype was something I liked. I wouldn't buy a dog to use for breeding that didn't have hips & elbows done, unless I was getting the dog Craigslist cheap and I really liked both his lineage and the dog himself--that way, if his x-rays don't pass I'll still be happy with what I paid for him as a pet.

It would be less than $1000.00, that's for sure. If I am just a pet buyer, I can find equally nice middle-aged dogs in a number of breed rescues and animal shelters that will be fully vetted, neutered, heartworm negative and current on vaccinations for far less than that amount.

If I were the type to take a risk on him for breeding, I might go as high as $1000.00, but it would take quite a lot of negotiation to get me to go that high.


by geraldelkins on 08 October 2017 - 23:10
can you please send me the contact information on the person who is selling the ober von bad-boll son that is a friend of mine i lost the number and have not spoke with them for about 1yr

by KainVonDerKanisfluh on 19 October 2017 - 01:10
Hi, can anyone tell me where you see angelo's listing for sale? I saw that he was for sale back in February in Antioch, CA. I own one of his sons. I want to get in contact with Angelo's owner, I know he wanted to sell him.
You must be logged in to reply to posts
---
---
---
---
Contact information
Disclaimer
Privacy Statement
Copyright Information
Terms of Service
Cookie policy
↑ Back to top