by Roman0256 on 18 June 2017 - 01:06
Does anyone know a reliable and trustworthy Showline GSD breeder in either Germany or Poland that I can communicate with and import a male and female from? Any help would be appreciated. I'm looking for dark red pigment, big boned and a big head.

by Western Rider on 18 June 2017 - 04:06
You might want to explain a little more about your wants other than dark red, big boned, big head
Do you want to title and show if so at what level. Do you want to try for the VA ring or just a "V" rated dog at large shows or club level
Do you not care to title and show just want to breed or have a pretty pet.
All of this and more will be needed to make a kennel recommendation and of course, will determine the price what range are you looking in.
If you only want to pay say $500 then don't look at a kennel like Bad-Boll etc. This is only for an example not what you are planning to pay.

by TIG on 19 June 2017 - 01:06
Also where are you located and why the need to go to Germany or Poland? Most nations these days have reputable breeders of hi-lines from Europe. There are also some very reputable brokers as well, tho in the GSD World unfortunately the watch word is buyer beware.

Let us know about your wants and needs and the age range you are looking for and why. I suggest not stating a price range since that sets you up for the "I have just what you want group" who only sees $$$$. If you are not familiar with the current pricing we can give ranges or communicate privately.

by Western Rider on 19 June 2017 - 02:06
Tig is right do not post your price range. My comment about money was for you to think about what you wanted to spend and look at the kennels that most likley will have what you want in that price range.
by Roman0256 on 19 June 2017 - 04:06
I'm looking for a dog with some obedience and bite work. If I can find them with a title I would certainly prefer it. They will be for family and club level. Reason I stated Germany or Poland was because a breeder friend of mine stated that breeders there are monitored more closely. But if you can recommend one in another country I would be glad to look into it.

Have you heard of Kennel Alexander out of Bulgaria?

by Western Rider on 19 June 2017 - 04:06
Doing a search of the forums with any kennel name may be of benefit to you.
You will hear from some that this kennel is good and from another had a bad experience with the same kennel.
Germany or Poland or Europe for what you want may not make a big difference.
Edited to add
Check our scam/ripoff section for names and how/if the problem was resolved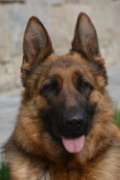 by precious gifts gsd on 21 June 2017 - 01:06
Yes email me chatmanasia41@gmail.com
You must be logged in to reply to posts
---
---
---
---
Contact information
Disclaimer
Privacy Statement
Copyright Information
Terms of Service
Cookie policy
↑ Back to top