by Mackenzie on 17 February 2017 - 15:02
Susie - you are banging your head on a wall trying to educate or engage in sensible debate with so many of the Americans who appear on this Data Base Forum. Their ideas and comments are often so far from reality it is unbelievable. The Breed Standard and how to breed to is it beyond them.

If I was actively breeding now I would not let any of my stock go to the USA.

Mackenzie
by beetree on 17 February 2017 - 16:02
MacKenzie, apparently your contributions in the past or imagined in any sort of a future concerning the GSD breed aren't necessary for America. Nothing for us here in the great USA to fret about as a loss, then, however remotely that possibility might have been.

If breeders are not breeding to the FCI standard in the USA, it isn't for a lack of understanding. It is a lack of concern for the rules made for a past, by others, who aren't Americans. Some simply rather enjoy who we are as individual Americans and certainly don't want to be Brits. Good God, no, not that!

by Hundmutter on 17 February 2017 - 16:02
As far as the GSD is concerned, some clearly have no wish to be Germans, either.
by beetree on 17 February 2017 - 16:02
There weren't any German's being purposely rude to a whole country.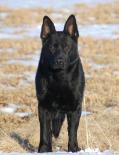 by Jenni78 on 17 February 2017 - 17:02
Mackenzie, fortunately, not everyone feels as you do. I've been very fortunate to find some lovely German folks who have sold me excellent dogs. They are not upset with what I have done with them and I consider them friends. To each their own. :)

by Reliya on 17 February 2017 - 17:02
There are plenty of Americans breeding to standard that care about their dogs like family, but since we're unregulated and money talks, there are also plenty of scumbags who breed their dogs to the ground all for profit. There are always greedy A-holes in every society. That's why you need to vet all prospective buyers to be sure you're not sending an innocent animal to Hell.

Also: I should say that I'm not suggesting all off-colored kennels don't care about their dogs, but talking about all kennels in general - there's good and bad worldwide.

by susie on 17 February 2017 - 17:02
Mack, there are several good breeders in the States - and several good trainers - they don't need to hide at all.
The "real" problem are those who try to sell off-colors as "special", the ones who sell puppies out of healthwise untested dogs, parents not DNAed, and the ones who sell "working dogs" out of pet dogs, promising "working ability" ... and naive buyers are willing to pay a fortune for those dogs ( doesn't matter because 99,9% will never test their expensive pet, not on the IPO field, not on a show, and not in a real life scenario ). Owners / breeders don't want to compare, but a lot of them want to breed, and they do.
You know what saddens me the most? They don't even realize there is a difference...
by Bavarian Wagon on 17 February 2017 - 17:02
Sadly, most Americans are fighting against regulation so that they can keep doing what they're doing and making money off of their dogs. Most don't want to have any kind of minimum standard because it would mean they'd have to put in some work and possibly wash dogs out at a higher rate because they wouldn't be able to meet that standard. It's much easier and cheaper to sell dogs over the phone, telling stories, and getting people (like some on this forum) to fall in love with the stories and the dogs without any verifiable proof that the stories are true. There is rarely and real or comparable information available because if these breeders actually had to compare their dogs to others, they'd lose buyers or profit margin.

Comparing in the United States usually involves being the loudest and having the most buddies to back you up on your fake claims…with the unspoken agreement that you'll do the same for them when the time comes.
Sadly...even facebook groups run by people that claim to "care" about the standard, allow people to post puppies out of dogs that don't even come close to meeting that standard. It's probably so that when they post their dogs...there's a clear difference between their dogs and the bottom dwellers.
by Mackenzie on 17 February 2017 - 19:02
Beetree - get off of your high horse and read my post again. You will see that I referred to "so many of the Americans who appear on this Data Base Forum" and NOT ALL Americans.
It is great that you and others enjoy who you are as individual Americans. I am not suggesting that you try to be Brits. Perhaps you should read Bavarian Wagons comments on the USA.
Mackenzie
by beetree on 17 February 2017 - 19:02
Your last sentence of your post said it all. Now, didn't it? It wasn't meant as a compliment no matter how you want to back out of it, now.

Bav made good points, what has that got to do with your snobbery? I am rather partial to my tall horse, truth be told.
You must be logged in to reply to posts
---
---
---
---
Contact information
Disclaimer
Privacy Statement
Copyright Information
Terms of Service
Cookie policy
↑ Back to top