by DDRCzechFan on 10 April 2012 - 17:04
I write everyone with a heavy heart...Beau, who had been on RAW for the last two-three weeks, got very, very sick this morning (about 2:30am). Vomiting water, deficating water-like stools, etc...
I called the vet, told them about the raw, first thing I told them my worry was about a blockage because of the bones in the raw.
I brought him in, they palpitated what they could (he is so skinny - he was lean before, but the vomiting and water-like stools just makes him look like black fur on a bone frame) and then did xrays. Luckily, no blockage, thank God, truly... They gave me antibiotics for his stomach, and issued a boiled chicken and white rice bland diet for about 5 days.
He WILL be okay, is what I was assured by the ER vet at 3:00am this morning, but there is nothing so scary as to thinking you're doing right by your child by feeding a good diet, but like anything else, not every diet is right for every dog/puppy.
The part that makes me cry, even now, as I type, I am crying, when we got home, I carried my angel to his pen, and sat in there with him, legs stretched out, he slept in between my legs with his little head on my theigh, and I cried. I told him that being sick was my fault; Mommy's fault, and that he didn't deserve to be punished by my stupidity. Upon hearing my voice waivering, he weakly lifted his head, set it on my chest and licked my tears. Even in his state, he STILL thought of me, of my emotional pain and comforted me.
I wish everyone in the world had such a selfless animal. In all of my years of owning German Shepherds, I have NEVER had one (even from the same bloodlines!) be so loving and affectionate.
Sorry, I just had to share this. I am not trying to discourage people from feeding raw, not by any means, but please consider what IS right for SOMEONE ELSE'S dog, might NOT be right for YOUR dog/puppy.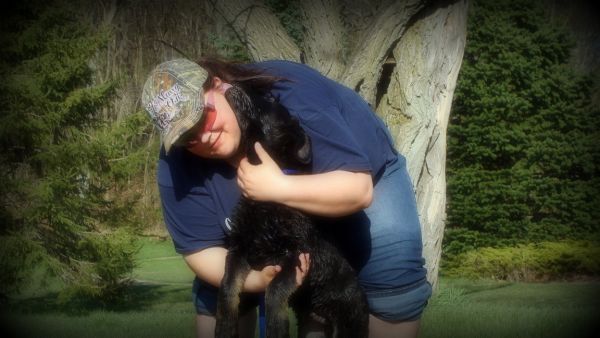 At the park, the day before Easter Sunday, after he and I went for a swim in the lake together
by Nans gsd on 10 April 2012 - 17:04
So very sorry; so did your vet say it was from the raw? I am unclear, and I know this is probably hard to discuss at this point, but was it the bones or what? RIP Beau; Nan

by DDRCzechFan on 10 April 2012 - 17:04
Nans Gsd,
Beau is ALIVE, he is just VERY sick.

The vet DOES believe it was from the Raw, so she suggested we stop feeding it, which we have. She said a few of her clients have had similar issues when feeding raw, so she just feeds Taste of the Wild and recommends TOTW and no raw. She says that TOTW is a nutritionally complete food, and that raw should not be included in Beau's diet in the future.

by Conspicuous on 10 April 2012 - 17:04
So he's going to be ok?

He sounds like a really special guy. Give him a hug for me, and one for yourself. Don't beat yourself up, you are doing your very best to give him what he needs to be happy and healthy.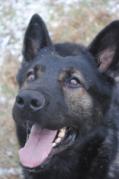 by mollyandjack on 10 April 2012 - 17:04
Very glad that Beau is ok! I'm not very militant (at all) about raw feeding and I don't there's a one size fits all approach to feeding, however...did you go to the lake with Beau before or after he became sick? It's tempting to blame sickness on raw, but a lake is as likely a vector for disease as raw. Just a thought...

by 3Shep2 on 10 April 2012 - 17:04
Hope your boy is ok soon-I had the same relationship with one of my females.

Did you mention to the vet swimming in the lake-on another site a dog was lost from swimming and ingesting lake water-do not remember all the details but the substance in that body of water was deadly-something I would not have given a second thought too.


by DDRCzechFan on 10 April 2012 - 17:04
We have been going to the lake after the raw feeding had started. We always go to the same lake, everytime. My other dog, a 2yr pitbull hasn't gotten sick from the lake but she DID get sick on the raw /so we took her off of it and it cleared up in about a day and a half. My vet DID test for Giardia and he was negative. Hoping to see some vast improvement but time will tell. Thank you to conspicuous for your kind words!

by DDRCzechFan on 10 April 2012 - 17:04
Also to mention, it's a local park where people regularly fish and EAT the fish. My vet asked me a few questions about the lake, and with the negative Giardia test, (vet had me bring in 4-5 samples of the watery stools to test several different samples) she thinks the Raw was not sitting in his stomach right, and despite the raw being human grade, handled and frozen properly, the length of time it was taking Beau to eat his raw might've been where the problem was - because of the meat sitting out while he was eating it, and the different paces of raw vs. kibble moving through the GI tract.

Thank you for the responses, Beau is great, truly a one-in-a-million heart dog.

by Mel62368 on 10 April 2012 - 18:04
Just curious what you fed him and how much everyday? Hope he is feeling better soon.. Nothing worse than one of you kids feeling sick.

Melissa


by DDRCzechFan on 10 April 2012 - 18:04
Beau was on Taste of the Wild kibble, about 2-2.5 cups a day, seperated out over 4 meals and ONE small piece of frozen, raw Pork Neck Bone every day, or every other day.

He's still pretty lethargic, but he ate a little food at noon-12:30 and has kept it down, thank goodness!
You must be logged in to reply to posts
---
---
---
---
Contact information
Disclaimer
Privacy Statement
Copyright Information
Terms of Service
Cookie policy
↑ Back to top