by SitasMom on 26 October 2020 - 23:10
I just had one sent from Slovakia to Doha to Houston. Travel was 3 full days, but my dog seemed to be well taken care of.
Customs was the same as usual, get at cargo, go to customs office, back to cargo.

Seems like Germany isn't doing it right now.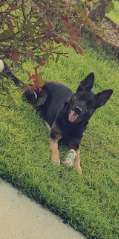 by Prissyzilla on 28 October 2020 - 05:10
I just imported a dog from Argentina, It was difficult and there were a few issues, but she got here. They price went up a good bit from what it was going to be before covid hit. Had to drive 20 hour round trip to pick her up as they could only get her here on a trip to miami, florida.
by richj on 06 November 2020 - 07:11
Can anyone recommend a good CZ or Slovak importer for a great green police dog.



by Hired Dog on 06 November 2020 - 08:11
Duke 1965. He posts in here regularly and is a police dog broker whom I would have no problems trusting to select a police working dog for me, if I were looking for one. You can contact him through the PDB.

by Koots on 06 November 2020 - 14:11
Careful there Hired... you may get accused of being a 'promoter' for Herby, lol.
Dam, koots, every post you promote Duke, lol. How much is he paying you to be his promoter?
-page 3 of this thread  😉

by Rik on 06 November 2020 - 15:11
have to LOL. the guy has been here for years and not a negative review. I'm gong to say that for every GSD person who actually knows how to get a GSD from Europe, there are probably a 1000 who have no clue. and that's O.K. I didn't, so I went there and got what I wanted. thats really not practical now.

until I start seeing people getting ripped off, I think koots and HD advice is very good.

and not everyone needs/wants a LE/Mil dog. betting that a good broker runs across many that fits the bill for 99% of us in the U.S.

jmo,
Rik


---
---
Contact information
Disclaimer
Privacy Statement
Copyright Information
Terms of Service
Cookie policy
↑ Back to top