This is a placeholder text
Group text

by GSDvonJägersHouse on 12 July 2023 - 11:07
Can anyone tell me more about these dogs & why they are so well known? This is my first time hearing of them. I've heard them referenced as the "old school" German Shepherds & German Shepherds today lack what they once had.
Also, are there any breeders still holding onto lines from these dogs?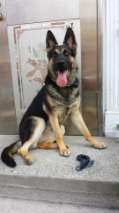 by alexnds05 on 14 July 2023 - 21:07
Hello Friend, I can tell you about Mink, but not the other two. Here's a link to a website having information on him: https://www.vonforell.com/mink-vom-haus-wittfeld-von-forell/ Mink vom Haus Witteld lived in the early 90's.
Ed Frawley of Leerburg Kennels had a son from him, named Otis.
here's his pedigree: https://www.pedigreedatabase.com/german_shepherd_dog/dog.html?id=302-mink-vom-haus-wittfeld?_v=20171016014127 I had a Mink great grandson, with Setty Leerburg, daughter of Otis, son of Mink, as the mother dog.
High prey drive and aggression. Aloof. Was said to be a hip improver. His qualities varied with the quality of the female he was mated with. He was a very influential dog of the late 80's and early 90's in that he appears in a lot of pedigrees of that time period.  He adds a good dose of hardness and aggression and seriousness to his offspring. More of a police dog than a sport dog in many ways. I only had a great-grandsdon, so I can't speak about the dog himself. That was around 2001.  Mink himself lived too long ago, to have any influence today. My dog Andrew was full brother to Axle vom Rolling Acres.
If he is any pedigrees, he would be 6 to 8 generations back in time at this point, too far away genetically speaking to make a difference at this point in time. He was born in 1982, so you're not going to find anything recent.

by charlie319 on 25 November 2023 - 23:11
Fero was a very good WL dog. However, you must do your homework on him in a particular pedigree as he was bred to good and suitable females, as well as females of paying customers.

You can add to the list Ellute and the Korbelbach lines (particularly the T litter of Timo, Toro and Troll) and maybe UFO van Guy's Hof. UFO worked very well and had longevity, which is a marker for health. I personally like an old DDR dog that is hard to find. Zorro com Laager Wall. Produces smart, malicious dogs...

by charlie319 on 26 November 2023 - 05:11
Fero: https://alpinek9forums.com/fero-vom-zeuterner-himmelreich-t962.html

by charlie319 on 26 November 2023 - 05:11
When you say Troll, is it Troll von der Bosen Nasharaft, or Troll von He is Milinda? Both can be good, just one is more consistent than the other. Troll brb is usually good and you find him with Aly often. Troll vHM is also very good.
Surprised you don't mention Lord v Gleisdreieck. He's in a lot of pedigrees.
by nicolestone63 on 02 December 2023 - 00:12
@charlie319

I have lord & Zorro in my dog's pedigree, both twice but 7 gens back. https://www.pedigreedatabase.com/german_shepherd_dog/dog.html?id=3116523-lechoshlaw-vom-hilla?_v=20220526194358

I can attest to the intelligence, but my dog is golden-retriever level social out and about / on neutral ground. However, he has potential to be quite civil in the work if fostered. I can see a lot of hidden sleeve work or prey guarding creating a dog that looks for bites at any given moment. I have elected to use him as a sport dog, but if you come in my house or car that's another story. He's not that man eating type of dog to go to war though he enjoys pacing the fence waiting for someone to cross it.
---
---
Contact information
Disclaimer
Privacy Statement
Copyright Information
Terms of Service
Cookie policy
↑ Back to top