This is a placeholder text
Group text
SG

 Bady ze Svobodneho dvora ZVV1, IPO3, SCHH-A, Kkl 1 
Sire Born: 18. July 2006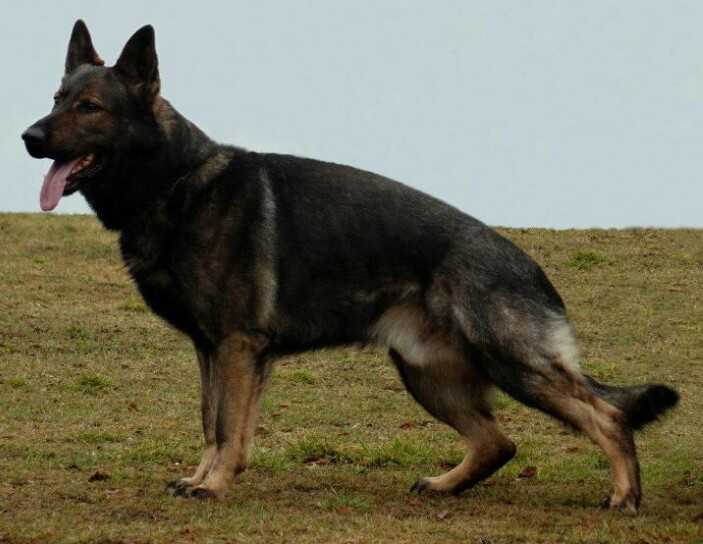 CMKU  DS/61650/06/08 (AKC DN32972101)
Hip: SV: HD a-normal (a1) - Elbows: normal (0/0)
DNA: AKC DNA #V661169
Jump to comments
Breed report
No breed report has been submitted
Linebreeding
SchH3
2001
SZ 2077750
HD-SV: HD a-normal (a1)


Sire







Groß, mittelkräftig, sehr ausdrucksvoll. Gute Oberlinie, Kruppe sollte etwas länger sein, gute Vor-, sehr gute Hinterhand, ausgewogene Brustverhältnisse, gerade Front. Hinten gerade-, vorne etwas engtretend, Ellenbogen sollten etwas geschlossener sein, wirksamer Nachschub, guter Vortritt. Sicheres Wesen, TSB ausgeprägt; läßt ab. V. Ausdrucksvoller, durch sehr gutes Pigment auffallender Rüde, überzeugende Führigkeit und sehr gutes Griffverhalten. VI. Geeignet zur Verbesserung des Pigmentes, vor allem der grauen Farbe. Ebenso Ausgleichspartner für im Wesen etwas laue Hündinnen.

1999 WUSV WORLD CHAMPION, Belgian Working Champion, 3X WUSV, SCHH3, IPO3, IWR3
1995
LOSH 745029 (SZ 2018398)
HD-SV: HD a-normal (a1)


Sire






4X WUSV, SCHH3, IPO3
1992
LOSH 698555
HD-FCI: A 1/2


Sire






SCHH3, IPO3
1993
LOSH 703779
HD-Normal


Dam



SCHH 3
1992
SZ 1822759
HD-SV: HD a-normal (a1)


Dam






SCHH3, FH, IPO 3,
1985
SZ 1659724
HD-SV: HD a-normal (a1)


Sire






SchH3/FH
1985
SZ 1659020
HD-normal


Dam






ZVV 1
2003
CMKU /DS/ 48703/03
HD-SV: HD a-normal (a1)


Dam






SCHH3, IP3, FH3(Ö) STAATSMEISTER, BUNDESSIEGER
1998
SZ 2013092
HD-SV: HD a-normal (a1)


Sire






SchH3 ÖPO3
1993
SZ 1873600
HD-SV: HD a-normal (a1)


Sire



SCHH3
1995
SZ 1943583
HD-SV: HD a-normal (a1)


Dam



IPO3, SCHH3, ZVV3, ZPS1, FH2, UMCR IPO, IPO-FH
1999
CMKU 36127/99/02
HD-


Dam






ZVV3, IPO3, SCHH3, ZPS1, ZM, FH1, (V7 WUSV 1997), (UM CR 1996 & 1997), (UMS 1997)
1992
CKS 12282/92/95
HD-normal


Sire






IPO 3, ZM, SCHH3, ZPS 1, ZV1, OP1

CKS 09326/92/96
HD-FCI: A 1/2


Dam






Picture galleries
By Prager - 10.6 years ago
From our hike in Desert of Arizona.
By Prager - 12 years ago
Pictures
User comments
This is a dog pedigree, used by breeders and breed enthusiasts to see the ancestry and line-breeding of that individual dog. The pedigree page also contains links to the dogs siblings and progeny (if any exist). For dog owners with purebred dogs this is an excellent resource to study their dog's lineage.
---
---
Contact information
Disclaimer
Privacy Statement
Copyright Information
Terms of Service
Cookie policy
↑ Back to top