PAM SG

Ike vom Dolderbrunnen 5XHGH SCHH3 HSCS HICS HXCS RN CGC TDI Kkl 1
Sire Born: 24. December 2001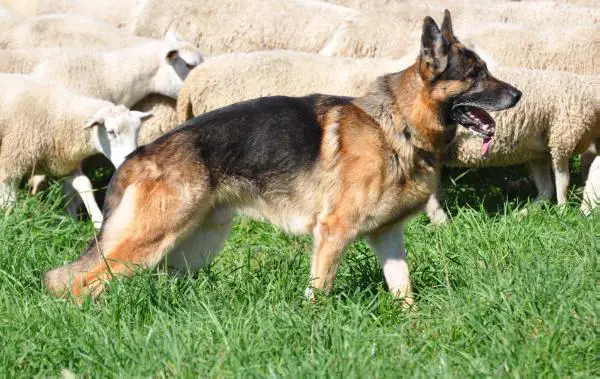 SZ 2097429
Hip: SV: HD a-normal (a1) - Elbows: OFA Normal
Breed report
Übermittelgroβ, entsprechen, kräftig, gutes Verhältnis, normaler Widerrist, fester Rücken., gute Kruppenlage, Oberarm sollte noch schräger liegen, gute Winkelung hinten, gerade Front, richtige Brustverhältnisse, zeigt raumfreifende Gänge, TSB ausgeprägt; läβt ab. Above medium size, correspondingly substantial, well proportioned, normal withers, solid back, well positioned croup, forearm could be more slanted, good rear angulation, straight front, correct chest proportions, has ground covering gait, TSB pronounced, outs. Working Herding Dog
Linebreeding
SchH1
1994
SZ 1891985
HD-normal


Sire







Großer, knochenkräftiger, in gutem Gebäudeverhältnis stehender, ausdrucksvoller Rüde. Gutes Gepräge, guter Widerrist, fester Rücken, gute Kruppe, sehr gute Vor- und Hinterhandwinklung. Korrekte Front, gute Brustverhältnisse, sehr gute Gänge, mit viel Raumgewinn. Sicheres Wesen, Härte, Mut und Kampftrieb ausgeprägt; läßt ab. V. Kräftiger, in gutem Gepräge stehender ausdrucksvoller Rüde. VI. Geignet zur Verbesserung des Gebäudeverhältnisses und zur Knochenkraft

SCHH3, CD
1988
SZ 1779438 (AKC DL56779701)
HD-SV: HD a-Ausland (a6)


Sire






SchH3
1986
SZ 1668730
HD-SV: HD a-normal (a1)


Sire






SchH3/FH
1984
SHSB 379811
HD-SV: HD a-normal (a1)


Dam






SchH1
1989
SZ 1762904
HD-normal


Dam



SCHH3
1986
SZ 1669141
HD-SV: HD a-fast normal (a2)


Sire






SCHH2
1983
SZ 1606542
HD-normal


Dam



HGH
1993
SZ 1885467
HD-SV: HD a-normal (a1)


Dam



SCHH3
1991
SZ 1796249
HD-SV: HD a-normal (a1)


Sire



SchH3/FH
1986
SZ 1683760
HD-normal


Sire






SCHH3, HGH
1986
SZ 1667448
HD-normal


Dam



SCHH3, HGH
1987
SZ 1692297
HD-fast normal


Dam



SCHH3
1980
SZ 1504904
HD-SV: HD a-fast normal (a2)


Sire






SchH1
1979
SZ 1495284
HD-fast normal


Dam



Picture galleries
By Rezkat5 - 10.4 years ago
Ike AKC herding trial in Columbia, NJ on November 16th 2008
By Rezkat5 - 11.3 years ago
Merry Christmas from Ike
By Rezkat5 - 11.4 years ago
These are photos from Ike's Schutzhund 3 title at Greater Philadephia Schutzhund Club.
By Rezkat5 - 11.9 years ago
Collage photo
By Rezkat5 - 12 years ago
Here we are getting our Schutzhund 2 Title.
By Rezkat5 - 12.1 years ago
User comments
This is a dog pedigree, used by breeders and breed enthusiasts to see the ancestry and line-breeding of that individual dog. The pedigree page also contains links to the dogs siblings and progeny (if any exist). For dog owners with purebred dogs this is an excellent resource to study their dog's lineage.
---
---
---
Contact information
Disclaimer
Privacy Statement
Copyright Information
Terms of Service
Cookie policy
↑ Back to top