SG 22 ITALY

Isak Team Semper Victor IPO1 Kkl 1
Sire Born: 08. December 2011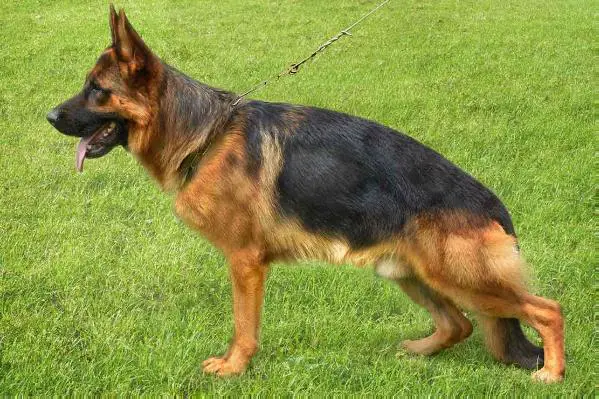 JR 739358
Hip: a1. Normal - Elbows: Normal
DNA: DNA geprutt
microchip: 968000010094734
Breed report
No breed report has been submitted
Linebreeding
SCHH3, IPO3
2007
SZ 2208401
HD-SV: HD a-normal (a1)


Sire







Groß, mittelkräftig, gehaltvoll, sehr gut pigmentiert, besonders ausdrucksvoll. Geprägestarker Kopf, harmonische Ober- und Unterlinie, sehr gute Gefügefestigkeit, ausgeprägter Widerrist, richtig gelagerte Kruppe, ausgereifte Brustverhältnisse, sehr gute Winkelungen der Vor- und Hinterhand, gerade tretendes, weit ausgreifendes Gangwerk, gute Gleichgewichtslage. Wesen sicher, TSB ausgeprägt, läßt ab. Sehr harmonisch aufgebauter Rüde mit lobenswertem Gepräge und Ausdruck.

SCHH3
2004
SZ 2154538
HD-SV: HD a-normal (a1)


Sire






SCHH3, FH1
2002
LOE 1333809 (SZ 2127932)
HD-SV: HD a-fast normal (a2)


Sire






SCHH3
2000
SZ 2068143
HD-SV: HD a-normal (a1)


Dam






SCHH3
2005
SZ 2157843
HD-SV: HD a-normal (a1)


Dam






SCHH3
2002
SZ 2110006
HD-SV: HD a-normal (a1)


Sire






SCHH3
2002
SZ 2106361
HD-SV: HD a-fast normal (a2)


Dam






IPO1
2009
HR 28355
HD-SV: HD a-normal (a1)


Dam






SCHH3, IPO2
2006
LOI 07/51437 (SZ2213251) (CSZ 8002354)
HD-SV: HD a-normal (a1)


Sire






SCHH3, FH
2003
SZ 2119344
HD-SV: HD a-normal (a1)


Sire






SCHH2, IPO2
2002
LOI 02/78365
HD-SV: HD a-fast normal (a2)


Dam






IPO1
2006
SZ 219879
HD-SV: HD a-normal (a1)


Dam






SCHH2
2004
SZ 2153073
HD-SV: HD a-fast normal (a2)


Sire








2003
2134228
HD-SV: HD a-normal (a1)


Dam






Picture galleries
By Eduribadeneira - 3.8 years ago
Nuestro Reproductor ISAK es SELECCIONADO, grado de adiestramiento IPO I, Placa Radiológica de Cadera DCF (cadera) "a" Normal; y, Placa radiológica de Codo ED (codo) "a" Normal, así como ADN comprobado, realizados en Alemania. Es decir, es perfecto de caderas y codos. NACIDO EL 8 DE DICIEMBRE DEL 2011, Isak es un joven reproductor con excelente tipo, con una estructura anatomica absolutamente moderna y diferente, destacando UNA OPTIMA PROPORCION ALTO - LARGO, ASI COMO UNA EXCELENTE ANGULACION DEL ANTERIOR, MAGNIFICO COLOR NEGRO Y FUEGO, TIPO DE PELO Y POR SUPUESTO su gran y consolidada familia, UNICA EN EL ECUADOR, PUES POR SU LADO materno tenemos a LOS INOLVIDABLES VAs, el Italiano Furbo y el aleman Zamp (ver pedigree). Seguro tendra un gran futuro en America Latina y en especial en el Ecuador. ISAK es HERMANO del ACTUAL Campeón del mundo o SIEGER ALEMÁN 2013 OMEN VOM RADHAUS QUIEN TAMBIEN nacio en Serbia igual que Isak Team Semper Victor. EL PADRE DE ISAK ES NADA MENOS QUE EL DOS VECES CAMPEON DEL MUNDO (años 2011 y 2012) Y SIEGER ALEMAN REMO VOM FICHTENSCHLAG.
By DOUBOSKY - 4.6 years ago
User comments
This is a dog pedigree, used by breeders and breed enthusiasts to see the ancestry and line-breeding of that individual dog. The pedigree page also contains links to the dogs siblings and progeny (if any exist). For dog owners with purebred dogs this is an excellent resource to study their dog's lineage.
---
---
---
---
Contact information
Disclaimer
Privacy Statement
Copyright Information
Terms of Service
Cookie policy
↑ Back to top