Irish Eyes River Von Argohof
Certified Herding Instinct
Sire Born: 24. July 2011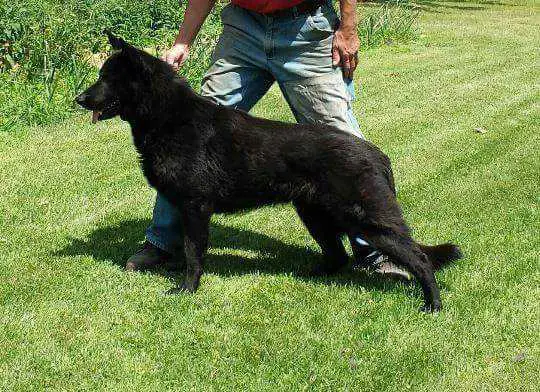 AKC DN31619402
Hip: OFA Good - Elbows: Pass
Other health issues: DM clear
Jump to comments
Breed report
No breed report has been submitted
Linebreeding
AD, SCH3
2002
CMKU 45181/02
HD-FCI: A 0/0


Sire






IPO3, SCHH3, OP1, ZVV3, ZPS1
1996
CMKU 26854/96
HD-SV: HD a-normal (a1)


Sire






ZM,ZVV1, OP1, IPO3
1992
CKSP 08157/93
HD-FCI: A 1/2


Sire






IPO3, SCHH3, ZVV1, OP1
1991
CKS 06637/91/94
HD-SV: HD a-normal (a1)


Dam






ZVV1, ZPO1

CMKU 37888/99/01
HD-0/0 normal


Dam



ZVV2
1993
CKS 16197/93/95
HD-0/0 normal


Sire






ZV1

CKS 19606/94/96
HD-0/0 normal


Dam



BH CD
2007
AKC DN20100905
HD-OFA: Good


Dam






ZVV3
2004
CMKU 53548/04/06 (CKC 1109234)
HD-SV: HD a-fast normal (a2)


Sire






ZVV2
2000
CMKU DS/40979/00/02
HD-SV: HD a-normal (a1)


Sire






ZVV1

CMKU 27055/96/00
HD-SV: HD a-normal (a1)


Dam



ZVV1
2004
CMKU 53963/04/06
HD-SV: HD a-normal (a1)


Dam






SCHH3, IPO3, ZVV3, ZM
2001
LOI 02/63657 (CMKU 46238) (AKC DN21316701)
HD-SV: HD a-normal (a1)


Sire






FH 2,ZVV 1,IPO 1,FH 1

CMKU 43455/01/04
HD-SV: HD a-normal (a1)


Dam



Picture galleries
By Irish Eyes - 2.9 years ago
Growing up and training photos.
By Irish Eyes - 6.1 years ago
This big robust, power house, is not only versatile but throws very large pups with 2 and 3 temps and high working attributes when breed with our top bitch Irish Eyes SHEBA Donahue. pedigree speaks for itself!! watch his progress in IPO training as he matures.
User comments
This is a dog pedigree, used by breeders and breed enthusiasts to see the ancestry and line-breeding of that individual dog. The pedigree page also contains links to the dogs siblings and progeny (if any exist). For dog owners with purebred dogs this is an excellent resource to study their dog's lineage.
---
---
Contact information
Disclaimer
Privacy Statement
Copyright Information
Terms of Service
Cookie policy
↑ Back to top