This is a placeholder text
Group text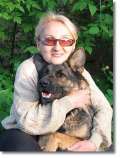 by lottas on 26 September 2021 - 22:09
Dear German Shepherd dog lovers!

Unfortunately, the language barrier prevents me to communicate fully, and through the electronic translator I often lose the essence of the conversation. I thank kitkat3478 for the translation of my articles, although it is hard for me to judge how correct it sounds in English.

I want to clarify that zoned is sable, and that the articles talk about two variants of black coloration:
The recessive black (aakyky) - was in the breed always and we also previously had many such dogs and now they are in the working breeding
The dominant black (aw-Kky) or (at-Kky) - has appeared in Russia in the early 2000s and we could not find its origins, assuming that it is a consequence of other bloods.

These articles were written in 2013 and in 2019. A lot has changed since then. I was able to find out the origin of the dominant black line, which came to the USSR through Nitus von Haus Konigsfreunde. Such dogs were bred in Germany until the 50s, but then they disappeared from breeding. Last time I gave a link to a chart of these lines.

https://ckvno.pp.ua/wp-content/uploads/2021/05/k-linii.jpg

Probably the reason for the disappearance was the change in color, which becomes silver with age. I see this as the main reason why it is undesirable to use these dogs in purebred breeding.

Many dominant black dogs become like this with age, it causes a lot of problems

https://www.pedigreedatabase.com/german_shepherd_dog/dog.html?id=2611687-zilber-vasserfal-fellini?_v=20170311104920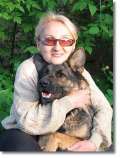 by lottas on 26 September 2021 - 23:09
Dominant black puppies are born and grow pure black, but after the first molt their coat begins to lighten in different places. Quite often they have silver on "pants", on the neck, on the body, and this already causes problems at shows and often leads to disappointment of owners. Unscrupulous owners of such dogs often paint to hide the silver effect. This problem mostly affects heterozygous black dogs (Kky) born from the mating of dominant black and black-yellow or dominant black and sable. This is what they look like in their natural state.
https://ru.files.fm/f/u2att2759

by Hundmutter on 27 September 2021 - 02:09
Thanks, Lottas. Interesting. Purely IMO but I don't see anything, just in these photos at least, that makes me think it gives the world any better Showdogs than exist in any other colour ! The breakthrough colour is particularly interesting; I do not recall ever seeing any S/L all-black ['normal' / recessive] here developing that silvered colour-break, even in dogs so elderly that their muzzles are white. I HAVE seen similar, however, among black GSD-'ISH' dogs bred in the pet trade supposedly as purebred GSDs whether KC Registered or not (and for a very long time).  I am unaware of any ( e.g. Russian-bred) imports to achieve this - they tend not, on the whole, to spend money bringing extra dogs into the UK ! - contributing to the stock of our 'magic circle' of coats & colours breeders !

This silvering is rather different from the other 'colour breakthrough' I mentioned, which regularly consists of some speckling of brown / tan marks in among the black hairs, mainly on the legs of the dogs, sometimes only to hock level, sometimes to hip height. Also seen by me mainly in pet-bred dogs. Maybe that is due to the influence of some OTHER added breed's set of genes.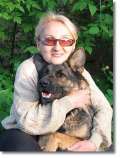 by lottas on 27 September 2021 - 21:09
Yes, that's right! In recessive black dogs, typical for the German Shepherd breed, the lightening occurs only on the legs, in the area of the tan, while in the dominant blacks it appears all over the body, anywhere. This is characteristic of heterozygous dogs that are carriers of black-yellow or sable

by Hundmutter on 28 September 2021 - 04:09
Lottas, there must be something else going on, some other influence to the normal, Recessive, picture ? As far as I know there are no all-black Show dogs here in the UK which display the tan 'bleed' on their legs - at least not those that are exhibited !!! ;-) ;-) *
But as I said I quite often see 'pet-bred' dogs with this (or with the silver marks also, on some dogs). These are often BYB, from a rather more narrow gene pool than our Show and Working lines, because the (very large) 'pet' market here tends to use more groups of lines favoured by the 'coats & colours' breeders. So they aren't using so much mainstream modern German highline dogs, even though originally their ancestry does lead back to those.

* And yet Americans indicate there are quite a few of the black dogs with tan bleed about, I'm getting a picture of those dogs being in some competition scenarios.

by Rik on 28 September 2021 - 12:09
that pattern of light streak behind wither/shoulder, underbelly and rear thigh feather is very common on blk/tan dogs.



by kitkat3478 on 04 October 2021 - 00:10
I still. Got to say, I find it rather interesting that a dominant black gene that has been there a the while, somehow just pops out when the dogs are bred in certain regions,identified by particular time frame, still has not occured any place else where these same dogs are being bred .
And now they are some gorgeous dogs so here I go, diving in myself getting a female bi color long coat puppy in a couple of weeks whose father is Mato, a long coat solid black showline dog I couldn t help myself.
I havn t been able to figure out the picture posting yet or I would put his picture in the post.

by Rik on 04 October 2021 - 13:10
lol kitkat, if there is a cure, I haven't found it. good luck and looking forward to some pics.

your statement about it only happening in one area, from dogs bred in other areas for many years says a lot, in my opinion only.

but if something is off kilter, I'll say again. it appears it was accomplished by someone very skilled at producing S/L dogs and really in a short time frame.
---
---
Contact information
Disclaimer
Privacy Statement
Copyright Information
Terms of Service
Cookie policy
↑ Back to top