by ValK on 04 August 2020 - 20:08
Hundmutter, Rick
i'm hoping you have expressed your impressions about Bomber not in picture?
in video he looks ok. average build dog.
i guess intention of photoshoper was to paint something like this dog :)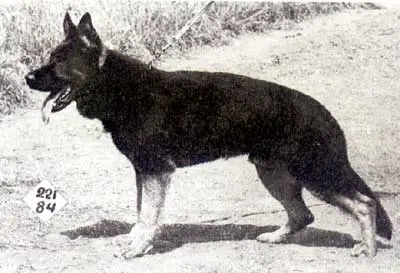 by Hundmutter on 05 August 2020 - 03:08
ValK, have seen other pics of Bomber; and, IIRC, (additional) video. Also discussed him with owner, albeit briefly. So no, I don't think that re 'the photoshopper' !!!
ADDED Yes, great post Kitkat.
by Rik on 05 August 2020 - 10:08
nope Valk, I didn't base my opinion on a single pic. while maybe in a different direction from you, I've been involved in the GSD in the U.S. for several decades and have seen the path they have taken.

personally, I do have a feeling the pic was photoshopped, probably to make him look more "show line" but maybe not.

and I do believe he was a good dog to come to North America to offer some diversity for the GSD here. I don't think much came of it though.

by Hundmutter on 05 August 2020 - 12:08
Rik, can we say that quite yet ? He's been heavily promoted and as someone mentioned above is showing up in a good many pedigrees.
by ValK on 06 August 2020 - 11:08
i said on previous page - in video he looks differently and better than in weird picture.
nothing outstanding but very decent, medium build, well proportioned dog.
from video seems like to some extend he inherited some positive trait from his mom Noditha.
so perhaps you're right saying he was a good potential for development.

by Baerenfangs Erbe on 06 August 2020 - 13:08
@Rik:

Because most people don't know how to breed in the US. How many breeders do you know that have even remotely produced a solid motherline? Or bred beyond the 3rd generation? They get dogs and just put them together based on what they see but knowing nothing about how the genetics will mesh.

On top of that, a lot of people really don't care too much about using a good mother and then use the flavor of the month male to try to make up for the mothers shortcomings.

Also, a lot of people that I'm following breed for sport. They really breed for sport and not based on what the breed should be. And it really shows.
by Rik on 06 August 2020 - 15:08
BE, Staatsmacht is the only one I'm familiar with, but then my last w/l was 10 years ago, a Javir daughter.

at that time there were 3 pretty well known sport trainers/competitors in my area, 2 I knew and 1 I never met. the 2 I knew bought the dogs they competed with from Germany.

I guess I'm a cynic, but it seems to me, a lot of people breeding dogs in the U.S. are more interested in a non refundable deposit than in the next generation of dogs.

that's why a place like this is a good resource for finding out about reputable breeders in the U.S.

by Hired Dog on 06 August 2020 - 15:08
Rik, you are not a cynic, but, you are correct. All I will add here is that if you find a breeder that satisfies YOUR needs, hold on to them for as long as you can.
---
---
Contact information
Disclaimer
Privacy Statement
Copyright Information
Terms of Service
Cookie policy
↑ Back to top