by Baerenfangs Erbe on 30 July 2020 - 23:07
Ummmm... if someone is hating on Uwe Kirschental and on Bomber than clearly they shouldn't be a Judge to begin with.

Walk away from this one. Your dog is a very well bred dog by someone that really knows the breed. You shouldn't even worry about what this idiot said to you. Your breeder is an old friend of my family actually.
by Rik on 30 July 2020 - 23:07
glad to see you are in a spot you and your dog can be comfortable.

and really, if you are still doing this 10-20 years from now it will be much clearer what some have said here.

have no idea about your dog, but Kirschental/Bomber (pedigree only) is way ahead of where I started.

best,
Rik

by ValK on 01 August 2020 - 19:08
Baerenfangs Erbe, that's interesting argument.

there are 40 years gap and influx of additional genes from about 70+ different dogs between Uwe and Anya in heavily
commercial development. please can you elaborate how that reference to Uwe associated with such distant relative?

by Baerenfangs Erbe on 02 August 2020 - 23:08
Valk, he said Bomber was showline. The showline Bomber was linebred on was Uwe Kirschental (4-5) and to say that Bomber was Showline because of that is incredibly ludicrous. Emma vom Teufelsgrund was basically half showline. But still... Bomber was a very impressive dog regardless of having showline in him. A lot of impressive dogs have showlines in them. Heck, most Baerenfang dogs have Showline in them. Back then Showline was not the same as it is today. Like seriously, know you bloodlines before you say Sh#%@ like this. . and to say her pedigree is not impressive? This guy needs to get over himself. A new client walks in and this is how you treat them? Here is the quote:
So he looked up her pedigree and told me that it was not very impressive and that Bomber(her grandsire) is from showlines. The only dog he had anything good to say about in her pedigree was Tom van't Leefdaalhof. So is my dog really from (half) showlines?
by Pirschgang on 03 August 2020 - 10:08
people consider the U-litter vom Kirschental "showlines"? Interesting. Both Uwe and Uran vom Kirschental competed in the BSP and the females of the litter were also HGH and Sch3.
by ValK on 03 August 2020 - 15:08
Baerenfangs Erbe, thanks for your clarification.
still plenty of a gap even between Uwe and Bomber.
very obviously Uwe wasn't show breeding as we recognise "show" today. to be honest it seem's the picture, posted in Bomber profile, was slightly photoshoped and not in the best way. in it he realy looks like some sort of hybrid between DDR type and show dog. perhaps that was done with purpose to provide the present day false perception by masses on how former DDR dogs was look.
in found video he looks quite different, actualy better than in picture :)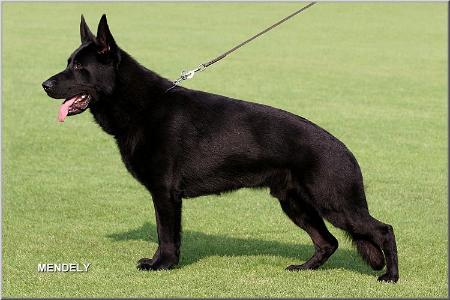 by Hundmutter on 03 August 2020 - 17:08
But Bomber was still a shapely dog who would have won conformation classes (in Europe, anyway); Parrish appreciates a dog that fits the Standard.
by Rik on 03 August 2020 - 18:08
a lot of folks felt that was photoshopped.

maybe not everyone's cup of tea, but none the less, I think a pretty nice dog for the U.S.


---
---
Contact information
Disclaimer
Privacy Statement
Copyright Information
Terms of Service
Cookie policy
↑ Back to top