by Northern Maiden on 19 September 2019 - 14:09
Nan, I realize I'm a bit late to the game in responding, but I thought I'd share anyway. My eldest GSD will be 10 years old next month and this summer started displaying stiffness in her backend, I put her on 500 mg of boswellia (1 NOW softgel per day with a meal) and have been very pleased with the results. Yesterday on our walk she leapt over a fallen log without any hesitation and the day before she leapt from a standing position onto a retaining wall that was higher than her head, both activities would have been impossible for her earlier in the year.
https://www.ncbi.nlm.nih.gov/pubmed/14994484
by Nans gsd on 19 September 2019 - 15:09















Northern this is excellent news and thank you for sharing the mg and your experience as well. The pain part is not needed as of yet but know what is coming and want to have and know what is available to my boy when needed versus trying to experiment with the stuff the vet has. Of course would like something as natural as possible with less side affects than stuff vet carries if possible. Know that natural can have some side affects also but hopefully healthier choice. So thank you. Nan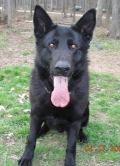 by Kelly M Shaw on 19 September 2019 - 19:09
I didn't go through all the pages to see if anyone brought this up but green lipped sea mussel worked very good for my older dogs. It's all natural. Here is the link https://www.xtend-life.com/products/green-lipped-mussel-powder

Natural inflammation management

Green Lipped Mussel Powder is internationally recognized for its powerful inflammation management properties. Sourced from New Zealand's Marlborough Sounds, our high strength, 100% pure powder offers a higher concentration than other Green Lipped Mussel supplements. Packed with nutrients, vitamins, minerals and Omega-3's, this natural superfood promotes healthy joint and cartilage function to help keep you moving, with ease.

When it worked on my older dogs, I tried it and it has worked for me with my frozen shoulder.

by Nans gsd on 19 September 2019 - 20:09
OH thank you Kelly Shaw I might try it also; my current arthritis supplement for my guy has green lipid mussel added into the formula, don't know if it is enough but at least it is an ingredient in the formula along with other ingredients, so I hope that will also help him with the progression and onset of the arthritis.

Thank you also for your help. Nan

Have you tried (Yourself now) Bosswellia suratta for your shoulder(s)?? Just curious and think I am also going to try that myself as 30 years of wheeling has brought on poor shoulders for me also. Along with other shit going on. Excuse my language for now but just not another fitting word for it.

by Northern Maiden on 20 September 2019 - 14:09
Nan, since you're considering trying boswellia for yourself, I thought I'd mention that it is imperative that you take it with food, preferably a protein; for some reason boswellia isn't absorbed very well when taken on an empty stomach. I hope it gives you relief, my dad was a pipefitter/welder for 30+ years and due to a work related injury sustained early in his career he had to take some sort of pain relief, he discovered that boswellia was the most effective of all.
by Nans gsd on 20 September 2019 - 15:09
OH thank you Northern Maiden; I will keep that in mind. Where do your get yours and how much did he take? Just curious as the mg's really vary with different formulas. NOW is a good product so probably will try to stick with that also. thank you again Nan

by Northern Maiden on 20 September 2019 - 15:09
My parents and I buy the NOW boswellia 500 mg softgels from Amazon, they generally have the best price; my mom occasionally orders from Naturally Healthy Concepts when she is feeling anti-Amazon.
I think he took 3-4 per day when he was working, he's a normal height but was very muscular from working a blue-collar job for over 3 decades. These days he takes 1-2 per day for maintenance. I'm very petite and have a connective tissue disorder, for which I take 1 per day as needed.

by ggturner on 14 October 2019 - 16:10
For my 9 yr old female gsd that has an arthritic elbow: bone broth twice a day, canned sardines (in water) 3X a week, and recently bovine colostrum (1000 mg a day). The bovine colostrum has given her more energy and light to her eyes. She's more playful since taking it.
by Nans gsd on 14 October 2019 - 18:10
Thank you ggturner good to know.
---
---
Contact information
Disclaimer
Privacy Statement
Copyright Information
Terms of Service
Cookie policy
↑ Back to top