by ValK on 19 October 2018 - 20:10
Christina, you should just ignore him. Joan said it very well - you're bad one for not selling dog to him and you gonna be even worst if you did sell that dog to him. such type of humans never can be happy.
anyway his "terrible revenge" didn't turned out to be such terrible


by armauro on 19 October 2018 - 21:10
Valk what do you know- how many dogs you have- recent member here-

by ValK on 19 October 2018 - 21:10
here we go.
now you'll try to tarnish my reputation?

by armauro on 19 October 2018 - 21:10
Maybe you should not venture into unknown issues- people here that hide behind user names are suspect.
Can not tarnish your rep when I do not know you and you are uninvolved in this
by ValK on 19 October 2018 - 22:10
actually i should, because i know Christina and her credential, which you try to badmouth.
same with other people, who in this topic pointed out - in this case you're unjust.

by armauro on 19 October 2018 - 23:10
Admin edit.. Please quit insulting other members, last warning. mrdarcy (mod) of course you are prejudiced but your were not "f-----------" by unethical practices. The 3 breeders I know agree she should have let me know with 1st right of refusal- she screwed up the airline info.
Leave it at that genius.

by Koots on 19 October 2018 - 23:10
but then you do not train dogs ONLY buy them with or with out titles and breed them like cows on the farm.
First of all, Christina DOES train her dogs - whereas you send yours to a trainer before even trying to bond with a new dog. Do you even train them yourself or have someone else train then title them? And the BS about introducing a new dog into the house, well anyone with any clue would have no problem with this by using a gradual, thought-out process. What are you going to do when your dog comes home from the trainer? You still have to make introductions, so your argument for sending to trainer first is moot.
You were given an opportunity to put your money down, but did not do that so as the adage goes: "Money talks, BS walks"......keep walking, Armauro. I'm sure this rant of yours is not making other breeders enamoured of you.
Just in case you try to characterize my statements as "breeders stick together", I am not a breeder, but rather a GSD enthusiast who respects this breeder whom you are trying to smear.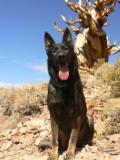 by Prager on 20 October 2018 - 04:10
Thats the way the cookie crumbles. You snooze you lose.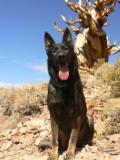 by Prager on 20 October 2018 - 05:10
by BodoBear on 20 October 2018 - 17:10
I have purchased several German Shepherds in the USA, Germany, and the Czech Republic. I focus on the dog's pedigree/temperament and equally important - the breeder or seller's buying process and reputation. My evaluation is based on various sources of information including the seller's satisfied and dissatisfied clients or prospects. I have a set of questions I ask about the candidate dog and the breeder and/or seller. I do not think I am unique using this approach.

Wendelin Farm, as a breeder and seller, fully met my criteria or personal standards to qualify as a top tier breeder and seller of working line German Shepherds. The overwhelming support of Wendelin Farm among the posts on this pedigreedatabase.com forum supports my view they are one of the best breeders ---along with my satisfaction with their buying process and sales agreement or contract when I purchased a young dog bred by Christina Kaiser. This includes the shipping to the USA, using Air Canada, arranged by Wendelin Farm from the Toronto Airport --- a long one way 5-hour drive for Wendelin Farm!

I have purchased and trained my personal dogs, both German Shepherds and Doberman Pinschers, for over 30 years. Throughout these years I have encountered good and bad breeders and sellers. Wendelin Farm, with its long list of satisfied clients and positive reputation among trainers and other breeders, is one of the best sources of German Shepherds with highly reputable working bloodlines from the Czech Republic and Germany.

I appreciate the support for Wendelin Farm and its reputation shown in this forum. They deserve it.
You must be logged in to reply to posts
---
---
---
---
Contact information
Disclaimer
Privacy Statement
Copyright Information
Terms of Service
Cookie policy
↑ Back to top