by Gustav on 18 August 2018 - 19:08
Yogi, you show me a pedigree of any decent working GS, ( showline too) and I will show you some dogs in pedigree that may offer some concern for hips. Of course you take the whole pedigree and hopefully the breeder recognizes these dogs and offsets them with other dogs in pedigree that balances things out.
Sometimes hip issues are evident by the certification on the dogs in pedigree, but if you know the history of the dog/lines then you are aware that bad compatibility within the pedigree will still produce hip issues. Jmo.

by yogidog on 18 August 2018 - 20:08
Gustav I know most of all good wl sl will have bad hips in the line somewhere. But I will avoid breeding a female or male that has siblings from the same liter with and bad health. So for it to be said on the thread that they would take a chance on an other liter that a dog with bad hips came from imo is wrong. Yes the gene pool of the gs is very tight but it is still our responsibility to breed the cleanest healthy pups we can. Imo
by joanro on 18 August 2018 - 23:08
One pup in the litter with bad hips is probably developmental hd....why forgoe a good breeding just because one pup might have been overfed.

One could spay and neuter the parent dogs, and the next litter from a new pair might have a much worse outcome.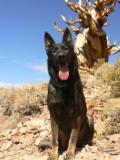 by Prager on 18 August 2018 - 23:08
Yogi all canines have a genetic propensity to have bad. hips,... even wolf. If there is a dog from a litter of let say 10 pups and only one of the littermates has bad hips then I would love to breed to such dog if his hips are good or excellent. Actually, as far as I know, that is the only way to improve the hips. Of course to breed a dog from litters where not littermates have HD is preferable but exceedingly rare. To eliminate a dog from a breeding program where only one dog from many littermates has HD is doing a disservice to the breed. JMO ;)
Actually, I will say that by your standard of not breeding dogs where a littermate has some health issue ( in how many years BTW) nobody would be ever able to breed any dogs. Actually, art of breeding dogs is based on compensating for potential problems of one breeding partner with virtues of the other partner. Anything else is a fantasy because there are no perfect dogs and more so there are no dogs with perfect littermates.
by duke1965 on 19 August 2018 - 05:08
actually,different littermates have different genetic package, so marking any dog by good or bad qualitys, a littermate has, but the dog itself does not, makes no sense to me.
furthermore bad hips/elbows are definately not genetic for 100% so that is something worth looking at on each individual dog,
by Gustav on 19 August 2018 - 07:08
I meant to say, sometimes hip issues are NOT evident by the certifications of dogs in pedigree. Anyway, I agree with Prager, Duke, and Joan on their views.

by Sunsilver on 19 August 2018 - 14:08
Yeah, like when my Ursus grand-daughter, with 5 generations of clear hips on both side (nothing worse than fast-normal) x-rayed as mildly dysplastic in one hip at age 2... Damn near broke my heart!

by joanro on 19 August 2018 - 14:08
Sunni, mildly dyplastic is not a death sentence. The dog will probably never be lame and will live a perfectly normal life. No point being heartbroken over a dog living a normal life. If it's puppies you wanted, there are millions of litters out there.
by duke1965 on 19 August 2018 - 16:08
I have a female that has 2 on hips that im breeding,she had injury, I have xrays on 6 months 11 months and 15 months done official,,
also I looked at anIPO 1 male that has official xrays at 12 months hips and elbows clear, did new xrays now at age 4 and issevere displastic on one hip,, so there is more than the paper results allways
by joanro on 19 August 2018 - 17:08
So true, Duke!
A dog can easily suffer a sub- luxation during training, show lameness, then upon exray be diagnosed as "dysplastic" !

I have a soon to be seven year old male stud dog that does not have cirtificates for hips and elbows, but I have his official exrays on disc at 14 months old...hips a nearly excellent and elbows are normal per my veterinarian.
I can get prelim certification according to instructions from OfA. I don't plan to exray him at this age, no need and he is absolutely sound.
You must be logged in to reply to posts
---
---
---
---
Contact information
Disclaimer
Privacy Statement
Copyright Information
Terms of Service
Cookie policy
↑ Back to top