by yhecht on 12 April 2018 - 08:04
Rebel was solid black when born except for a very small white spot on his chest. He remained that way until he was about 1 year old, then the brown hairs started appearing on his front legs, and a couple of months later, I noticed them also on his rear legs. He is now over 2 years old, and all legs are getting progressively more brown. Slowly spreading like a rash would spread. or like brown ink starting to leak through black material. Parts that were definitely black are now turning "dirty" brown.
by Sersi73 on 13 April 2018 - 11:04
My black gsd has bleed thru. She is tested and is indeed recessive black. She came out of a black and tan sire and sable mother. Recessive blacks need both parents to carry for recessive black to get black. Recessive black is not like sable, where one parent HAS to be sable to get sable. Sable is dominant. You can go to ddc vet dna center and test dogs for color and colors they carry. So no need to guess. :)
by Sersi73 on 13 April 2018 - 11:04
I was also able to test and see if she carried for coat.

by Hundmutter on 13 April 2018 - 17:04
Sensi, at what age did you first notice the brown markings creeping in ?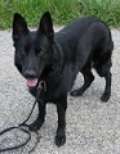 by Lunastar on 21 April 2018 - 22:04
yhecht can use the photo of my girl Sasha as she needs to, I have given her permission to do so. Also, to everyone else, please ask the owner of a photo if you can use it before doing so. Photos are copyrighted to the person who first made them in less they are sold to someone else. You can be sued for theft of copyrighted material if you use a photo without permission as they are treated the same as artwork.

by mrdarcy on 22 April 2018 - 06:04
Thanks Lunastar for your post above and happy it is sorted out.
You must be logged in to reply to posts
---
---
---
---
Contact information
Disclaimer
Privacy Statement
Copyright Information
Terms of Service
Cookie policy
↑ Back to top